"Britain's car makers give us plenty to be proud of"
When it comes to making high-quality cars, editor-in-chief Steve Fowler thinks nobody does it better than the Brits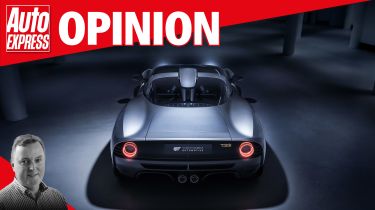 What a time for the UK car industry! Bentley announcing its bold plans for electrification, a beleaguered Aston Martin coming out fighting with a 697bhp version of its excellent DBX, Land Rover revealing plug-in hybrid versions of the new Range Rover, and Lotus teaming up with new battery supplier Britishvolt to produce its next all-electric sportscar.
Then there's the newest – and one of the most exciting – British car maker: Gordon Murray Automotive. If ever I've seen a car-related example of knowing your market and delivering exactly what your customers want, this is it. A compact, lightweight sports car that'll cost around £1.4m (plus taxes) may not be mainstream, but I suspect the T.33 will be another car that Gordon Murray and his colleagues won't have to sell too hard.
This is a new model that's beautiful in its simplicity and will please those who feel electrification is coming too fast and too soon; the V12 fitted to the T.33 (and its sibling, the T.50) is another bit of automotive genius and will feature in more GMA cars in the future. Fantastic!
We Brits are always a little shy about celebrating our successes, but when it comes to cars, there are some things that we do so much better than anyone else – which is why so many foreign companies are investing in British talent, whether that's by ploughing money into British brands and their excellent workers or hiring Brits to run their car companies.
Bentley may be owned by the Volkswagen Group, but it's been brilliantly run by Brit and Auto Express Hall of Fame inductee Adrian Hallmark. Nobody has a better understanding of what Bentley does, can and should do than Adrian, but credit must go to his bosses in Wolfsburg for buying in to his vision and leaving him to it.
When it comes to luxury, sports models and making high-quality cars these days, nobody does it better than the Brits. And that's something we should all be celebrating.
Click here for more on Aston Martin's new 697bhp DBX707...