'Rodin and Moke are set to shake up the car industry'
Editor-in-chief Steve Fowler speaks to the bosses of Rodin and Moke, who both aim to make it big in the car world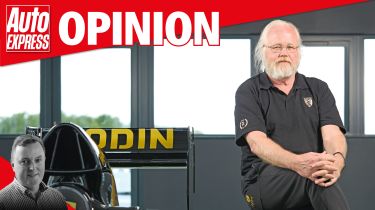 Car company bosses come in all shapes and sizes. Elon Musk is probably most famous of them all, including exploits away from Tesla. Then there's this year's Brit List number one, Ford's Stuart Rowley, who says he's more of a businessman than a car fan, while Stellantis's CEO Carlos Tavares would get into a racing car every weekend if he had the chance.
This week I've met with the bosses of two new firms with different plans to make it big in the car world, starting with David Dicker (above), founder of New Zealand-based track car specialist Rodin.
Dicker is an Aussie bloke who made his fortune in his homeland selling computers. His passion for cars and driving – he's a race winner himself – led him to launch Rodin in New Zealand (building a factory with its own test track alongside), support some of the world's brightest up-and-coming racing drivers, make a bid for the Williams F1 team and now take on the big names in the hypercar world with the Rodin FZero – plus an all-electric road car that's set to follow soon after.
It's the toughest of asks and Dicker will admit he's doing things in an unconventional way. However, he deserves huge praise for having a go and I hope he succeeds.
Wouter Witvoet is another petrolhead who's made his money elsewhere. But I'm intrigued at what he has planned for his EV Technology Group, the new owner of the Moke brand, and which has also just bought well respected UK manufacturing expertise with Fablink.
Witvoet plans to buy up more British brands like Moke (and let's be honest, the UK has enough dormant brands with plenty of provenance). As he told me, it's easier to buy a brand than try and build new one, so with economies of scale and Fablink's manufacturing skill, we can only dream about the reimagined models Witvoet and his team will be bringing back to life. It's a simple but brilliant plan that we think car fans are going to love, too.
Click here for more on the 223mph Rodin FZero hypercar...