'JLR's new CEO is just the man for the job'
Editor-in-chief Steve Fowler believes that JLR's Adrian Mardell is the right CEO at the right time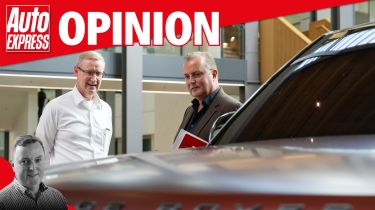 This week I met new JLR CEO Adrian Mardell, the bloke who's been in charge of the British behemoth officially for less than a month, although he's been sitting in the CEO's chair on an interim basis since November.
Mardell was too polite to say he didn't remember our last meeting, but I recounted being introduced to him by a colleague a few years ago who said I should get to know him "and not only because he signs the cheques", which is probably the usual joke for a guy in charge of finance.
JLR is at a crucial time in its existence, with numerous challenges ahead, not least with product. Reinventing Jaguar is one of many conundrums he faces within what the company now refers to as its House of Brands.
One of the most important parts of any business is its culture, and in the past that wasn't great at what was then Jaguar Land Rover. Mardell is quick to credit his predecessor, Thierry Bolloré, with many things, and one change the Frenchman made immediately was to alter the culture. People at the firm were smiling again.
Things have moved on further with Mardell in charge. He's one of the team and has instantly reinvigorated the workforce – all 38,000 of them. It's quite remarkable.
As we walked the corridors of JLR HQ, he told me he's often asked for selfies by staff, reminding me that "it's their company after all". We pass colleagues who wave and say hello – he gives them the thumbs up and says hello back. And this is in a company where, in the past, people would cross the road to avoid talking to the boss.
Did he ever dream of becoming CEO? "No, I'm not a great dreamer, to be honest. I'm really well trained to do this, and I know I kind of came out of the pack a little bit, but I've had 19 roles across 32 years." In a short period of time as CEO, Mardell has got the team on its toes and the business in the black. For a company that's rumoured to have struggled to appoint the right CEO in the past, it could turn out that the best one was under their noses all the time.
Now read more about JLR's future...