JLR's future: CEO Adrian Mardell talks Jaguar, Discovery, Defender and the focus on reliability
The JLR CEO tells Auto Express about the brand's future direction, from new products to the renewed focus on quality and reliability
You could hardly call Adrian Mardell's rise to the top at JLR meteoric. "It's been 32 years, nine months and four days," he says, with the warm smile that's become his trademark around the business. 
It's fair to say his appointment as CEO was as much a surprise as the departure of his predecessor Thierry Bolloré after just two years and four months in November 2022. Mardell slipped into the interim CEO role – "I literally moved two desks from where I'd been," he tells us – which was then confirmed last month.
In a short space of time, he's had a big impact on staff, with one senior insider telling us "He's really united the company and the workforce" and another saying, "He's one of us and is giving us all a clear vision about what's expected to get where we need to go".
Bolloré's Reimagine plan – which Mardell had a hand in – isn't itself being reimagined, the board – with a few tweaks – has remained the same, and stability is leading to growth; there's black on the balance sheet for the first time in a while.
JLR – as we must now call it – has plenty of challenges ahead, not least to earn the money to reinvest back in the business, but also with supply issues only just starting to ease, the long-awaited Jaguar reinvention still work in progress, overlap amongst the product range and a reputation for poor quality that just won't go away.
So how does Mardell plan to do it? Teamwork seems to be the key, empowering those around him to do the very best they can. His strong, yet calm, approach, particularly the way Mardell presented the financials to investors, was said to be one of the reasons his paymasters at JLR owner Tata gave him the job.
"I definitely feel comfortable not being a technical expert in the boardroom," he admits. "You don't need people exactly like you. You do need complimentary skills. 
"You need to make sure that people recognise themselves as the leader or the expert in certain ways. We've got three people on the board who are technical engineering experts, and I'm not one of them, but I'm a business expert. 
"It's also about understanding what consumers want from a vehicle and fulfilling that. And that's why we've gone to four brands, because that will enable us to curate four different answers rather than two different answers. It's as simple as that."
Let's start with one of those challenges: are supply issues still affecting JLR? "There are still supply challenges, no doubt about that," he says. "For the moment at least, but it's less about semiconductors – that's because we've gone and put contracts in place.
"We're still supply constrained, but with the break even point down to 300,000, we are now becoming very profitable even at constraints of supply."
Supply clearly isn't proving to be a barrier to Defender production with the plant in Nitra, Slovakia moving to three shifts and waiting lists dropping to manageable levels.
Partnership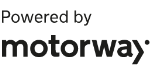 Need to sell your car?
Find your best offer from over 5,000+ dealers. It's that easy.
Securing a strong supply of batteries is key to JLR's future and Mardell is clearly delighted with the deal parent company Tata has struck with the UK government for a Gigafactory in Somerset – "That really is brilliant," says Mardell, knowing how important it is to have battery supply, as with steel, available "within the broader family". The first batteries will arrive in three years, he tells us.
New electrified car platforms
Mardell refutes suggestions that JLR is behind the curve on electrification, reminding us that the company will launch six new battery electric vehicles before 2026, with the all-electric Range Rover going on sale later this year and the first deliveries in 2024.
Similarly on technology, JLR's relationship with software giant NVIDIA will start to come to fruition with the next generation of platforms, JEA (Jaguar Electrified Architecture) and EMA (Electrified Modular Architecture).
JEA, obviously, will be used for the three all-new Jaguars we'll see from next year, while EMA will be used across the SUV family – no longer think Land Rover, instead it's Range Rover, Defender and Discovery, all part of the House of Brands.
The MLA 'flex' architecture comprises ICE, PHEV and BEV powertrains, currently only in Range Rover models, but that will be expanded. "We have to electrify Defender of course, and we will be looking to electrify the existing Defender off MLA later this decade."
Defender Sport - the 'baby' Land Rover Defender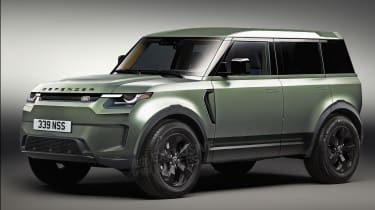 That's not all for the Defender family, as Mardell reveals. "We are looking at creating other vehicles within the Defender family. I would've thought by this time next Global Media Day we'll be clear on what we are comfortable with producing off EMA and when. Even though I won't confirm, because you can guess the ones that we've got coming at us initially?" Auto Express understands that will be a smaller all-electric Defender, potentially badged Defender Sport and previewed in our exclusive image.
But while the Range Rover family is going great guns – with future Velar and Evoque models also expected to make use of the all-electric EMA platform – the future for Discovery is less clear…
Land Rover Discovery up for reinvention
JLR execs have admitted that the success and appeal of Defender has caused problems for the Discovery, with sales of the latter struggling compared to its newer sibling. And there is no firm plan for how to reinvent Discovery yet. "We haven't yet done enough thinking on Discovery," Mardell tells us. 
"It's not because we can't, it's because we just haven't got to it. We know it'll be the later products out of the architectures. We know it's not going to come off MLA, because we just won't be able to get an affordable proposition off MLA. We know it has to come off EMA because that's the only other one for Land Rover."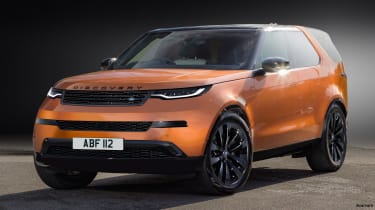 Mardell confirmed that EMA is flexible enough to accommodate a three-row, seven-seat family vehicle, but the platform switch could possibly lead to a hiatus for the Discovery name plate. 
The Discovery currently shares its D7 platform with Defender, with the two built alongside each other at the Nitra plant. But with Mardell confirming Defender's switch to the MLA platform – and production likely to stay at Nitra – that could mean a pause for Discovery until a new all-electric model is launched on EMA, with other EMA models expected to be built at JLR's plant at Halewood on Merseyside. 
It's not impossible for cars on different platforms to be made in the same plant but that's unlikely in this case, especially given the success of Defender and how it currently dominates Nitra production. Mardell was keen to stress, however, that Discovery was still very much part of the House of Brands. "We haven't found [the solution] yet, but nobody's going to lightly give up on the word Discovery."
Mardell's predecessor was less than certain about the future of the Discovery Sport, though, and it seems that any replacement for that vehicle would be some way off, if at all. "I think I need to see the design intent for the Discovery before we talk about how many we get to," says Mardell.
Jaguar four-door GT to be first of three models in new family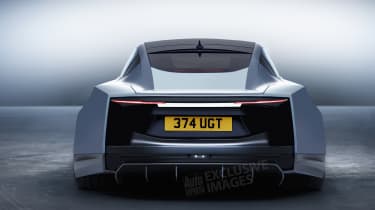 The future for Jaguar is clear though, with Mardell revealing the brief given to the team. "Thierry set the team off and asked them to come back with just four words to explain the emotion and what that brand actually stands for, and they were exuberant, unique, fearless and progressive.
"That took me back to when I was a nine-year-old boy and my first experience with Jaguar. My dad was a painter and decorator, and he worked for a builder and the builder owned an E-Type. So as a nine-year-old boy, I spent an hour in a beautiful, sky-blue E-Type doing all the things nine year old boys would do, noises and switches and all that good stuff. 20 years later, I started working for Jaguar – and that was 32 years, nine months and four days ago!
"The designers went away. They produced 18 full-sized clay models in three groups. Gerry [McGovern, JLR's chief creative officer) asked 20 people to review those models and 19 of us chose one particular design. That was the design from Massimo Frascella [JLR design director].
"From my perspective, it did tick those four words – we think we've got a jaw-dropping design".
That design language is set to be used across the three different Jaguar models, as Mardell reveals, "It'll be a family. It's really important that there's an association, a family look for it. But to actually meet the design intent here, because there's going to have to be a wider wheelbase to meet the exuberance, that's why Jaguar needs its own architecture. Making what would be a compromise to get Jaguars off the EMA platform, we are not going to be able to meet that without a discreet and a dedicated Jaguar architecture."
Jaguar's present hasn't been helped by words from Gerry McGovern at a recent investor conference. JLR's chief creative officer said the brand today has "no equity whatsoever" and the current strategy had led to "mediocrity". Jaguar owners have been up in arms over McGovern's comments. 
"I would never make those comments," says Mardell, citing recent brand studies in the US putting Jaguar at the top of the premium pile for appeal.
For the new cars, insiders have spoken of a truly groundbreaking design, but everything – including a new Jaguar logo – will be kept tightly under wraps until next year when we'll see a concept, probably around April/May time at the start of a new fiscal year. "Yeah, you'll see a version of how the vehicle's going to look. Call it a concept if you like," says Mardell. 
The first production car, a four-door GT, the rear of which is previewed in our exclusive image, is still scheduled for a reveal in 2024 and on sale in 2025, with two other crossovers to follow.
The new Jaguars will be built at Solihull, but where will that leave Jaguar's traditional home at Castle Bromwich? "We've actually made it super-clear to the people at Castle Brom that we won't be building production units there going forward," says Mardell.
"The intention is to use it for stamping facilities. At some point we're probably going to have some form of recycling within the facility there. We may use it for SVO (JLR's Special Vehicle Operations performance arm). We may use it for a pilot plant. We just reassured people that their jobs are not under threat. They may need training, but you know we're retraining 29,000 people for electrification, so join the group. I'm getting retrained on a day-to-day basis in this job. Great people want to continue to develop and train and we want our people to continue to develop."
Quality and reliability in focus
Another challenge to JLR comes from the far east with a host of new brands coming from China alone, but Mardell us up for the fight. "It's a wake-up call, but it's not an existential threat. It's a great opportunity for us to think through where we go with our house of brands and curate the answer for us. And I think we'll gain more clients, not fewer clients off the back of that."
However, the elephant in the showroom for JLR has always been reliability, with survey after survey putting the company's brands towards the bottom of the pile – although it doesn't seem to be hurting sales. Mardell has given board member Nigel Blenkinsop an 'enhanced' role as Executive Director, Enterprise Performance & Quality to ensure the improvements JLR is seeing in reliability data continues.
"The first public appearance I had on the board in 2019 I was really clear: our quality and our warranty claims off the back of it was unacceptable," says Mardell. "Sometimes you've got to put your hand up and say it's just not good enough."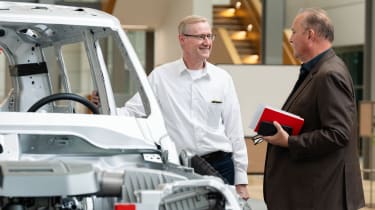 "Over the last three launches, we've delayed the point of introduction to the product because we've wanted that product to mature. Enabling the engineers to finish to make sure that the vehicle's ready for the customer is a big thing. And it doesn't give anybody a mandate to be late either, by the way. But if we are just not ready, we have to do the right thing and we have to be brave enough to give people more time. As the chief executive, I will do that.
"Let's go to the data. You've seen the latest study in the US, for both Jaguar and Land Rover we're better than the average in premium. We've been second in terms of the vehicle dependability study in China for the last two years.
"We are moving, and the intensity and the work that Nigel and the team have done, actually beyond three years, but mostly from the last three years, it's starting to show. It's hard yards – we know this.
"People don't forget that stuff and it takes time – we are not where we need to be. We need to keep improving. I used to spend two days a week on supply issues. I spend more time on quality issues than supply issues today, and we'll continue. It's just making sure that the teams are given every opportunity that they can to keep getting this right. And the engineers, the gold medal is the engineers get it right before release. We're getting better and the data shows that."
And getting better is what JLR is all about, from the top down. The product today – even on the Jaguar side – is more than competitive. And with Mardell in charge and the team really rallying behind him, you really do feel that the best is yet to come for these great British brands.
What do you think the future holds for JLR? Have your say in the comments...