Cheaper version of electric Peugeot e-208 could be on the way
Peugeot is considering an expansion of the e-208 range by adding a model with a smaller battery and a smaller price tag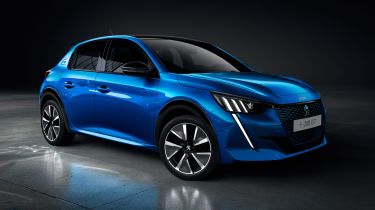 The Peugeot e-208 could soon gain a lower range variant with a smaller price tag, potentially dropping the electric supermini's base-price below £22,000. The French brand is actively considering customer demand and could implement the update in time for the e-208's mid-cycle facelift.
Peugeot's brand manager for electric vehicles, Anne-Lise Richards, told our sister title, DrivingElectric: "The more comfortable customers become with EVs, the less we will need to reassure them about range.
• Best electric cars on sale now
"Currently, customers are not saying that the e-208 is too expensive, but at one point maybe we will need a more affordable option and we could always achieve a smaller battery. The only thing is introducing diversity in the plants – and we need to be sure there is a need from the customers."
From an engineering standpoint, offering a range of battery outputs for an electric vehicle is relatively easy. In Peugeot's case, it would be a simple task of removing cells from the e-208's existing 50kWh unit until the desired output is achieved.
The issue is one of economics. Adding a choice of battery outputs can complicate an electric car's production process, as well as increase its production costs – both of which will derail the e-208's expansion project if the business case isn't sound.
For now, the Peugeot e-208 is only available with a 50kWh battery pack, which delivers a claimed maximum range of 211 miles. It's likely that Peugeot's lower-range model will lose around 25 percent of its battery capacity, dropping the system's output to around 37kWh and offering a new maximum range of roughly 150 miles.
This lower range, coupled with a potential starting price of £22,000, would make the e-208 a larger alternative for the likes of the Volkswagen e-up! and other premium electric city cars, while retaining the car's position alongside premium, low-range EVs of a similar size such as the BMW i3 and MINI Electric.
Would you be interested in a lower-range version of the Peugeot e-208? Let us know in the comments section below…