Historic Porsche 917 Le Mans racer honoured with new concept
This year marks the 50th Anniversary of the Porsche 917 Le Mans car so, to celebrate, the German firm designed this concept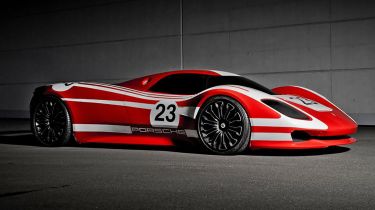 The Porsche 917 Le Mans racer celebrates its 50th Anniversary this year. To mark the occasion, the German firm commissioned a team of designers and engineers to create a fitting tribute. They came up with this, a rather striking modern interpretation of the car, finished in the same red and white livery as the 917 that won the 1970 Le Mans 24 hours race.
Sadly, this 917 tribute will remain a concept; Porsche has confirmed it will produce neither a track-only nor road-going version of the car. However, it will be displayed in the metal at the Porsche Museum between the 14 May and 15 September as part of the firm's commemorative '50 Years of the 917' exhibit.
The concept will stand alongside a total of fourteen exhibits which include a series of racing posters, a handful of technical displays and a fleet of 10 Porsche 917s, with a combined power output of around 7,700bhp.
History of the Porsche 917
Following a change in regulations for the 1968 Le Mans racing series (which limited engine capacity to five litres for the Group 4 category), Porsche began development of a new car designed to win the manufacturer its first overall victory at the event.
The Porsche 917 was the result. Based on the 1968 Porsche 908 Group 6 racer, the 917 featured an incredibly light space frame chassis, a 4.5-litre air-cooled flat-12 engine and a removable tail section with active aerodynamics.
Its flat-12 engine was a marriage of two 2.25-litre Porsche flat-six engines. It featured a range of titanium and magnesium components, double overhead camshafts and two distributors which fed a set of twin spark plugs.
For the 917's inaugural race in 1969, the engine produced around 520bhp but, by the time of the car's demise after the 1973 Can-Am racing series, turbocharged variants of the flat-12 were producing upwards of 1,000bhp. The turbo technology developed for the 917's engine would eventually trickle down to Porsche's road cars, too, featuring on the 1974 911 Turbo.
As a result, the 917 was hugely successful. On its first outing in 1969, at Zeltweg in Austria, the car triumphed. In the following year, at the 24 Hours of Le Mans, Hans Herrmann and Richard Attwood enhanced the 917's reputation by taking another victory. The turbocharged 917 also won the Can-Am racing series two years running between 1972 and 1973.
What are your thoughts on the Porsche 917 tribute? Let us know in the comments section below…