New Porsche 963 revealed for Le Mans 2023
The new Porsche 963 hypercar will compete in both the FIA World Endurance Championship and the IMSA WeatherTech SportsCar Championship next year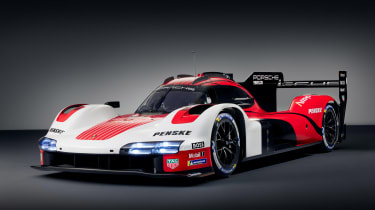 1/12
Porsche has one of the richest histories in motorsport of any car brand, and the new 963 will attempt to extend the Stuttgart firm's legacy further when it starts racing next year. 
Revealed at the Goodwood Festival of Speed 2022, the 963 will compete in the 2023 World Endurance Championship and the US-based IMSA WeatherTech SportsCar Championship, kicking off with the 24 hours of Daytona in January and then Le Mans, Sebring and Road Atlanta. It will feature at Bahrain later this year as a non-competitive runner to further its development programme.
After several successful years at Le Mans in recent history, Porsche announced a shock exit in 2018, but the 963 marks a return to the top class of endurance racing. 
Complying with the LMDh regulations, the Porsche 963 is based on an LMP2-category (the class below LMDh) chassis supplied by Multimatic, a firm that helped develop the Ford GT road car and suspension for Ferrari's 296 GTB Assetto Fiorano pack model. 
The 963's aerodynamic bodywork produces a classic sports prototype shape. However, the LMDh rules have led to some differences compared with its predecessor, the 919 Hybrid. The 963's headlight clusters are smaller, but there's still a huge fin on the engine cover that leads to an enormous rear spoiler. 
Underneath the bodywork lies a twin-turbo 4.6-litre V8 engine producing 671bhp. This new motor is based on the same engine as fitted to the firm's 918 Spyder road car, released in 2013, while the engine's DNA stretches all the way back to another former Porsche endurance racer, the brand's old RS Spyder.
"After 7,889 test kilometres during the first half of 2022, we're on a very good path but there is still work to be done before the start of next season," said Thomas  Laudenbach, Vice President of Porsche Motorsport. 
"Our new Porsche 963 should continue the legacy of legendary models such as the 917, 935, 956, 962 and the 919."
The German squad has also confirmed driver line-ups for the new car. Slotting behind the wheel next year will be Kévin Estre, Michael Christensen, André Lotterer, Laurens Vanthoor, Matt Campbell, Mathieu Jaminet, Dane Cameron and Felipe Nasr. 
Check out the latest Porsche news and reviews here