Porsche Boxster 2.7 manual, 57.7%
Performance cars clearly have a desirability about them that means their residuals are strong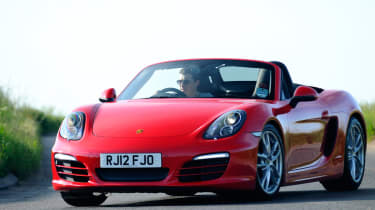 Performance cars clearly have a desirability about them that means their residuals are strong, and one of our favourite roadsters is a very wise purchase.
The Boxster is the entry point to the Porsche range, but if you dismiss it as a poor man's 911, you're missing out on one of the best-handling sports cars at any price.
A price tag of £38,237 for the entry-level 2.7-litre model is hardly bargain basement, but it's cheap in Porsche terms, and it gets you a car that's hugely entertaining on a twisty road, with fluid steering, a sharp yet forgiving chassis and more than enough power to keep you entertained.
Even better is the entry-level Boxster's 57.7 per cent retained value, which is the same whether you go for the slick-shifting six-speed manual or the seven-speed PDK auto. Move up to the more powerful Boxster S and residuals drop slightly to 54.1 per cent, but these are still better than for the larger 911, which offers a maximum value of 53.9 per cent for the standard Carrera with PDK box.
Unlike some cars, such as MINIs, going wild with the extras won't help to increase the Boxster's value, so if you're thinking of taking the plunge, you don't need to rack up the costs by ticking the options boxes.
Price now: £38,237
Value after three years: £22,063