Porsche 718 Cayman/Boxster - best sports cars
Mid-engined Porsche twins are driver's cars honed to perfection, whichever version you choose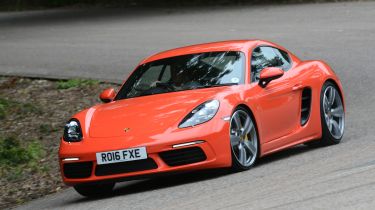 The Porsche 718 Cayman and 718 Boxster serve up a lot of the appeal of the 911 coupe and convertible for a lower price. They can't match the illustrious image of their famous brother, but are every bit as good to drive. Performance is amazing whether you go for the regular 296bhp 2.0-litre Cayman or Boxster or 345bhp 2.5-litre S models (although a recent move to four cylinder engines has upset the purists), while the sharp handling and responsive steering will raise a smile on any road.
Look at the dimensions on paper, and you'll see the Cayman and soft-top Boxster are smaller than the 911. But the two-seater interior provides decent space and a near-perfect seating position. Impeccable build quality hints at how reliable these cars are, too – few owners have reported any problems.
Luggage bays in the nose and at the rear give this mid-engined car a boot size of 310 litres. And more appealing figures include lower insurance group ratings than for the 911, plus better fuel consumption. Emissions are lower, too, meaning cheaper road tax, and service intervals stand at 20,000 miles. Plus, Porsche dealers have a reputation for looking after their customers.
Best sports cars
1. McLaren 570S
2. Mazda MX-5
7. Porsche 718 Cayman/Boxster
9. Nissan GT-R
10. Jaguar F-Type