Mercedes-AMG C63 Coupe - best sports cars
Big twin-turbo V8 and a rear-drive chassis turn elegant coupe into a total headbanger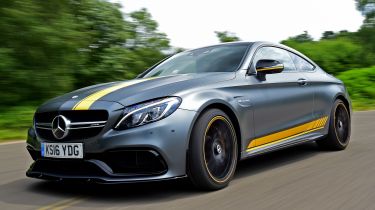 The V8 engines may be a little smaller these days, but the rumbustious character and howling vocals of Mercedes-AMG products still make the hairs on an enthusiast's neck stand up.
The Mercedes-AMG C63 Coupe is a case in point, with its 4.0 twin-turbo motor offering mighty performance, accompanied by that trademark AMG bellow that just begs the driver to keep their foot hard against the floorboards.
• Mercedes-AMG C63 S Coupe review
In S trim, doing so unleashes 503bhp and a seamless wave of thrust that delivers 0-62mph in just 3.9 seconds and just keeps going until you're flat out at the limited 155mph maximum. There's sharp handling, well-weighted steering and limpet-like grip in Sports+ mode, all of which help to make the C63 Coupe more than a match for the BMW M4 on a demanding road.
Yet if you wind things back to comfort settings, progress is every bit as refined as the regular C-Class, apart from an – acceptably - firmer ride. If you can afford the £77k S model, it really is a cracker of a coupe, but the standard car is highly desirable too.
Best sports cars
1. McLaren 570S
2. Mazda MX-5
5. Mercedes-AMG C63 Coupe
9. Nissan GT-R
10. Jaguar F-Type