BMW M4 Competition Pack - best sports cars
Adding the Competition Pack to the M4 Coupe transforms it into a focused sports machine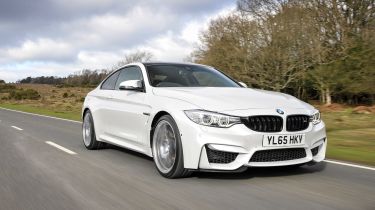 BMW has a long history of building engaging sports coupes, but when the M4 Coupe first arrived as the replacement for the legendary M3, it left us wanting a litle more. Sure, the 3.0-litre twin-turbo straight-six delivered the kind of punch that emulated its V8 predecessor, but the M4 didn't quite deliver in terms of driving involvement.
Luckily BMW's M Division had a few extras in the locker, first introducing the M4 CS as an 'in-betweener' featuring parts from the ultra-exclusive M4 GTS, then adding the Competition Pack as a £4,000 option on the standard M4.
The result is a sharper, more focused coupe courtesy of the Pack's adaptive dampers, an electronic diff, a modest power boost to 444bhp and bigger 20-inch wheels with a wider tread to help put the power down. For drivers looking for a four-seater coupe that genuinely entertains, the Competition Pack helps the M4 find its mojo.
Best sports cars
1. McLaren 570S
2. Mazda MX-5
4. BMW M4 Competition Pack
9. Nissan GT-R
10. Jaguar F-Type