Fiat 124 Spider - best sports cars
The Italian firm is back in the small sports car business, courtesy of Mazda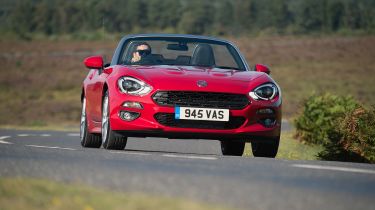 Sports cars don't come much purer than the front-engined, rear-wheel drive, open-top, two-seater, and Fiat has a history of building these kind of models. So when it came time to produce a spiritual successor to the classic 124 Spider, it turned to another car maker that's already building its own fun two-seater.
The Mazda MX-5 is a modern-day classic, and its layout perfectly suits the 124 Spider philosophy. So, Fiat took the MX-5, reprofiled the nose and tail, stuck its own 1.4-litre turbocharged engine under the bonnet, and off the new 124 Spider went.
The turbo engine gives the 124 Spider enough of a character change to separate it from the MX-5 - even if the visual changes don't, and the mid-range torque means the Spider feels muscular compared to the high-revving MX-5.
And if you want more power, there's always the Abarth version, which is tuned to 168bhp and gets some sporty visual updates and a rorty exhaust note.
Best sports cars
1. McLaren 570S
2. Mazda MX-5
8. Fiat 124 Spider
9. Nissan GT-R
10. Jaguar F-Type