Jaguar F-Type - best sports cars
The F-Type puts the grrr back into the great British sports car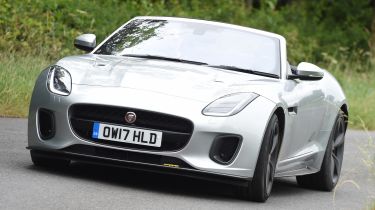 No longer quite the new kid on the sports car block is the Jaguar F-Type, with a price tag that puts it firmly between the class-leading Porsche 911 Cabriolet and 718 Boxster. The F-Type is available as super-sexy soft-top, and an even better-looking coupe.
All versions deliver the strong performance you expect, while accurate steering and immense grip ensure they're loads of fun on a twisty road – especially with the fruity sound of the optional active exhaust.
The 568bhp SVR is the fastest F-Type, but is a bit of an indulgence at £110k. And while the V8 models provide the extra thrill of that classic exhaust soundtrack, the V6 versions sound good too, and provide plenty of fun on the road - especially in S trim with adaptive damping and optional 4x4.
Best sports cars
1. McLaren 570S
2. Mazda MX-5
9. Nissan GT-R
10. Jaguar F-Type