McLaren 570S - best sports cars
'Entry level' McLaren is still a sensational piece of sports car engineering that entertains in spades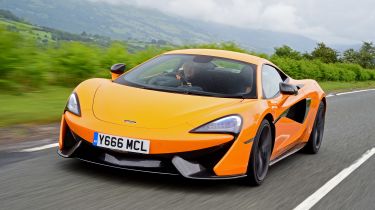 The spectacular McLaren 570S won our Performance Car of The Year award in 2016, and it heads our list of the top 10 best sports cars to buy.
It's not the cheapest car in our list by a long stretch, but it's the least expensive McLaren that money can buy with a starting price of £145k. Relatively speaking it makes the junior McLaren a bargain, offering almost identical performance to the similarly priced Porsche 911 Turbo S, in a much more exotic and desirable package.
The 570S comes with McLaren's twin-turbo 3.8-litre V8, in this case making 562bhp. That's enough to catapult you from 0-60mph in 3.1 seconds using launch control. The 570S is also the easiest McLaren to live with, thanks to redesigned doors that ease access, and it even has a boot that's larger than the 911 Turbo's too. With a fabulous handling chassis offering incredible grip, excellent damping and good steering feedback, the 570S is just a joy to drive fast. It's comfortable and refined enough for touring, although the 570 GT is an even more capable machine.
Best sports cars