Nissan GT-R - best sports cars
Japanese coupe is a showcase for what can be done if you throw electronic wizardry at the sports car philosophy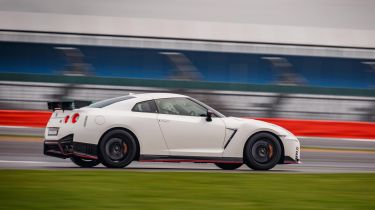 In terms of giant-killing performance and everyday practicality, you still can't do much better than the £83k Nissan GT-R.
Nissan itself is getting value from the model too, as it's been around now since 2007, and concept versions were grabbing headlines as long ago as 2001. However, while the exterior hasn't changed much over the years, the latest 2017 model year GT-Rs are arguably the best ever in terms of everyday usability.
First off, Nissan has invested in a much more luxurious feel to the cabin thanks to improved design and material choices. Secondly, a round of mechanical upgrades includes suspension revisions that take the edge off the ride harshness which detracted from the previous version's ability to cruise enjoyably, while adding a bit more power and a more sonorous exhaust. You can distinguish the latest car by its new grille and bonnet sculpting.
Performance from the GT-R's now 562bhp twin-turbo V6 remains firmly in the supercar league. So 0-60mph arrives in little more than 2.7 seconds, and the GT-R is flat out at 196mph. That's on a par with a Porsche 911 Turbo, which costs almost as much as two Nissan GT-Rs…
Best sports cars