Porsche 911 Carrera GTS - best sports cars
The Carrera GTS combines the best bits of the standard Carrera and the track-focused 911 GT3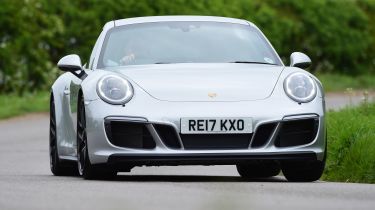 The 450bhp, 550Nm Porsche 911 Carrera GTS is arguably the sweet spot in the 911 range, with the firm's latest twin-turbo flat-six 3.0 engine giving it a 0-62mph time of 3.7 seconds with the PDK gearbox option.
One of the reasons we love the Carrera GTS though, is that it's the most powerful Porsche 911 available with a standard manual gearbox – a slick, mechanically pleasing affair that delivers all the purist driving thrills any enthusiast could ask for.
The turbocharged engine pulls like a train too, although the turbos muffle the classic 911 bark a little at the top end. The latest models grip harder than ever though, and offer incredible agility and turn-in – especially if you have the rear-wheel steering that's standard fit on the GTS.
With a supple ride and a luxurious and spacious cabin, the latest 911 Carrera GTS is a terrific sporting all rounder.
Best sports cars
1. McLaren 570S
2. Mazda MX-5
3. Porsche 911 Carrera GTS
9. Nissan GT-R
10. Jaguar F-Type