Audi RS 5 - best sports cars
The latest RS 5 delivers all-weather performance in a subtly aggressive package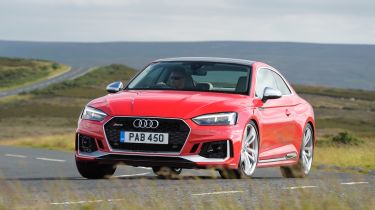 Audi has tended to follow the lead of BMW and Mercedes when it comes to high-performance cars. Most of the time they have been fast, but the addition of quattro four-wheel drive has held them back when it comes to driver engagement.
Past versions of the RS 5 Coupe have had V8 power, but the current model copies the S5 by having a V6 twin-turbo TFSI engine. This is the same engine found in the RS 4 Avant performance estate and packs 444bhp. This time around, the RS 5's quattro four-wheel drive has been tuned by Audi Sport, the firm behind Audi's racing projects, and it has more of a rear bias than ever.
This boosts the RS 5's ability, while the 4WD grip still gives it unsurpassed traction and agility in slippery and wet conditions. What's more, the four-seater cabin means this is a practical performance car that could double as family transport without any difficulty.
Best sports cars
1. McLaren 570S
2. Mazda MX-5
6. Audi RS 5 Coupe
9. Nissan GT-R
10. Jaguar F-Type