Winter tyre reviews 2021: results by category
Which winter tyre performed well in which area? Our tables reveal all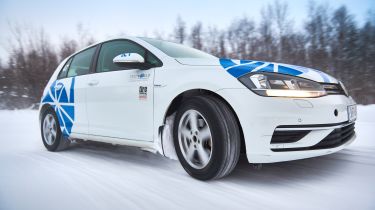 Verdict
We're pretty sure Avon would agree that the WV7 Snow needs updating or replacing. Dunlop is in a similar position, with a tyre that's beginning to show its age, whereas Maxxis needs to develop more performance away from dry roads.
There's precious little to choose between Goodyear, Michelin and Hankook, although Goodyear needs to rediscover its wet performance, while Michelin needs to work on snow grip. Hankook has finally found the right balance for the RS2, although its fuel economy could be better. Continental is the one for snowy conditions, but elsewhere the Bridgestone is the clear winner.
Winner
Bridgestone Blizzak LM005
Even the briefest scan of these results will make the message unmistakable: with seven outright wins and a runner-up spot from the 11 tests, it's obvious Bridgestone has found something special with the Blizzak LM005. For dark days in winter, this is the clear choice.
Results
Snow braking
| | | |
| --- | --- | --- |
| 1st | Bridgestone | 100% |
| 2nd | Continental | 99.90% |
| 3rd | Hankook | 99.60% |
| 4th | Dunlop | 98.70% |
| 5th | Goodyear | 98.50% |
| 6th | Maxxis | 97.90% |
| 7th | Avon | 97.00% |
| 8th | Michelin | 96.50% |
Snow Traction
| | | |
| --- | --- | --- |
| 1st | Continental | 100% |
| 2nd | Bridgestone | 98.10% |
| 3rd | Michelin | 97.70% |
| 4th | Hankook | 97.50% |
| 5th | Goodyear | 97.30% |
| 6th | Dunlop | 96.60% |
| 7th | Maxxis | 96.00% |
| 8th | Avon | 93.70% |
Straight aquaplaning
| | | |
| --- | --- | --- |
| 1st | Continental | 100% |
| 2nd | Maxxis | 96.60% |
| 3rd | Avon | 96.50% |
| 4th | Bridgestone | 96.00% |
| 5th | Dunlop | 95.40% |
| 6th | Goodyear | 95.30% |
| 7th | Michelin | 95.30% |
| 8th | Hankook | 94.50% |
Curved aquaplaning
| | | |
| --- | --- | --- |
| 1st | Continental | 100% |
| 2nd | Goodyear | 97.30% |
| 3rd | Dunlop | 94.60% |
| 4th | Avon | 90.40% |
| 5th | Michelin | 87.10% |
| 6th | Bridgestone | 85.80% |
| 7th | Maxxis | 84.40% |
| 8th | Hankook | 77.40% |
Wet braking
| | | |
| --- | --- | --- |
| 1st | Bridgestone | 100% |
| 2nd | Michelin | 92.60% |
| 3rd | Avon | 91.80% |
| 4th | Continental | 91.70% |
| 5th | Hankook | 91.00% |
| 6th | Maxxis | 88.20% |
| 7th | Dunlop | 87.70% |
| 8th | Goodyear | 85.40% |
Wet handling
| | | |
| --- | --- | --- |
| 1st | Bridgestone | 100% |
| 2nd | Hankook | 99.60% |
| 3rd | Michelin | 98.80% |
| 4th | Maxxis | 98.40% |
| 5th | Continental | 97.80% |
| 6th | Goodyear | 96.00% |
| 7th | Avon | 95.10% |
| 8th | Dunlop | 95.10% |
Wet circle
| | | |
| --- | --- | --- |
| 1st | Bridgestone | 100% |
| 2nd | Michelin | 97.90% |
| 3rd | Hankook | 97.80% |
| 4th | Maxxis | 97.80% |
| 5th | Continental | 97.70% |
| 6th | Dunlop | 96.20% |
| 7th | Goodyear | 95.30% |
| 8th | Avon | 95.10% |
Dry braking
| | | |
| --- | --- | --- |
| 1st | Bridgestone | 100% |
| 2nd | Goodyear | 95.50% |
| 3rd | Maxxis | 95.50% |
| 4th | Hankook | 95.30% |
| 5th | Continental | 94.60% |
| 6th | Michelin | 94.60% |
| 7th | Dunlop | 94.40% |
| 8th | Avon | 94.10% |
Dry handling
| | | |
| --- | --- | --- |
| 1st | Bridgestone | 100% |
| 2nd | Hankook | 99.3 |
| 3rd | Maxxis | 98.7 |
| 4th | Continental | 98.6 |
| 5th | Dunlop | 98.6 |
| 6th | Goodyear | 98.4 |
| 7th | Michelin | 98.1 |
| 8th | Avon | 97.7 |
Rolling resistance
| | | |
| --- | --- | --- |
| 1st | Bridgestone | 100% |
| 2nd | Goodyear | 99.60% |
| 3rd | Continental | 98.50% |
| 4th | Dunlop | 96.90% |
| 5th | Michelin | 90.00% |
| 6th | Hankook | 81.70% |
| 7th | Avon | 80.70% |
| 8th | Maxxis | 80.00% |
Cabin noise
| | | |
| --- | --- | --- |
| 1st | Maxxis | 100% |
| 2nd | Avon | 99.40% |
| 3rd | Goodyear | 99.30% |
| 4th | Continental | 99.10% |
| 5th | Dunlop | 99.10% |
| 6th | Bridgestone | 98.90% |
| 7th | Hankook | 97.70% |
| 8th | Michelin | 97.40% |
Overall
| | | |
| --- | --- | --- |
| 1st | Bridgestone | 100% |
| 2nd | Continental | 98.30% |
| 3rd | Hankook | 97.20% |
| 4th | Michelin | 97.10% |
| 5th | Goodyear | 97.00% |
| 6th | Dunlop | 96.70% |
| 7th | Maxxis | 96.70% |
| 8th | Avon | 95.50% |