Alternative tyre choices
Not sure about winter tyres? Here are two other options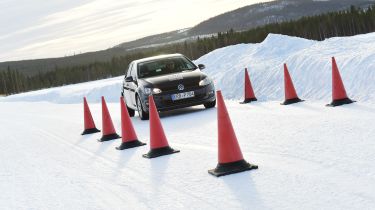 Unlike in much of Europe, winter tyres are not a major part of the UK scene. If we could drive the tyres we use all year round (called summer abroad) on snow, as in our tests, we'd have a market for winter tyres overnight. At the very least, all-season sales would increase.
For those not able to experience the difference, we've brought back our comparison of the alternatives, to show the compromises involved in not changing tyres for the seasons. Here we see how a summer tyre performed compared with winter and all-season options.
All-season tyre: Hankook Kinergy 4S2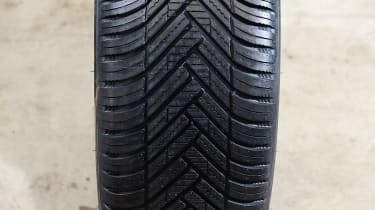 The figures here (and snow results for the summer tyre) are not a direct comparison, because they are taken from the concurrent all-season test figures, but they illustrate the basic differences between the tyre types.
Our wet tests were mostly done below the seven degrees Celsius point where the performance advantage switches from summer to winter tyres. The all-season Hankook would have finished behind all tyres bar the Vredestein across the five tests. In the dry test's warmer temperatures the balance swapped, with a five-per-cent advantage for the all-season and nearly 10 per cent in braking.
It's no surprise to see this all-season design eight per cent off the pace on snow, but it did feel safe – and significantly better than the summer tyre.
Blackcircles.com says…
The Hankook is positively rated by customers. With a score of 4.4 out of 5, drivers favour value for money with these tyres. Reviews mention good grip, low road noise and the excellent performance in both wet and dry conditions.
| | |
| --- | --- |
| Hankook Kinergy 4S2 |   |
| Overall | 97.7% |
| Price | £104.90 |
| Snow braking | 91.3% |
| Snow traction | 88.1% |
| Straight aquaplaning | 96% |
| Curved aquaplaning | 91.7% |
| Wet braking | 95.1% |
| Wet handling | 97% |
| Wet circle | 100.9% |
| Dry braking | 108.1% |
| Dry handling | 99.8% |
| Rolling resistance | 94.5% |
| Cabin noise | 101.5% |
Buy the Hankook Kinergy 4S2 from Blackcircles.com...
Summer tyre: Bridgestone Potenza Sport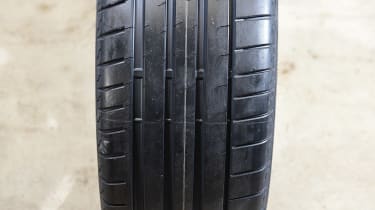 You don't get far out of the test garage on snow before you realise why you need to change tyres for the white stuff. On all- season or winter tyres you drive pretty much as if it were wet – on the summer tyre it's a white-knuckle ride just to get to the handling track. On the circuit it is not about finding the limit, but simply getting round and staying out of the snow banks. No wonder the UK grinds to a halt when snow settles.
Look at that dry-braking result and, for many, it is the compelling argument for swapping back from winter tyres in the warmer weather. It represents close to 10 metres and it's easy to see how that could mean the difference between having and avoiding a collision. The best winter tyre was still doing almost 28mph when the Potenza Sport had stopped.
Blackcircles.com says…
Customers rate this tyre, giving it a score of 4.5 out of 5. Most buyers are impressed with the grip and compliment the latest Potenza on how much longer it lasts compared with its predecessor.
| | |
| --- | --- |
| Bridgestone Potenza Sport |   |
| Overall | 86.1% |
| Price | £102.50 |
| Snow braking | 35.6% |
| Snow traction | 22.7% |
| Straight aquaplaning | 96.4% |
| Curved aquaplaning | 105.8% |
| Wet braking | 91.4% |
| Wet handling | 95.3% |
| Wet circle | 103.2% |
| Dry braking | 119.9% |
| Dry handling | 103.7% |
| Rolling resistance | 79.3% |
| Cabin noise | 100.4% |