Series of Renault autonomous car concepts planned
Renault is planning a run of self-driving car concepts to preview its vision of the future at coming motor shows.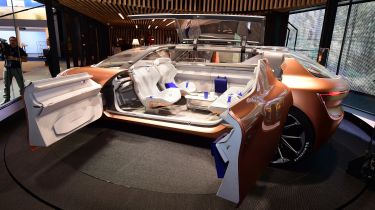 Renault's Symbioz concept car, which demonstrates how cars could become extensions of our homes by 2030, is the first in a series of concepts from the French company previewing its autonomous future.
Next year's Geneva and Paris Motor Shows are likely to feature further interpretations of the French company's vision of self-driving, fully connected tech.
• Frankfurt Motor Show 2017: latest news
"Next year we will be happily focused on concept cars," said senior vice president, corporate design, Laurens van den Acker. "You can expect a lot of fireworks.
"Autonomy is topical, so we will be focusing on that. We will be looking at how we integrate new technologies into interiors. How far do we want to go. What is the limit of acceptability?
"They will be really quite conceptual. With lots of new technologies coming nobody really knows the answers so it is more interesting if we think out of the box."
Van den Acker confirmed that a prototype of the Symbioz would be ready by the end of the year, and would feature functional solutions to some of the challenges presented by a car interior where no one is driving.
• Driverless cars: everything you need to know
Meanwhile, with executive vice president, sales and marketing, Thierry Koskas, confirming to Auto Express that another bigger pure EV is on the cards from Renault within the next few years to follow the ZOE – "another segment, a bigger car, a first car of the household," said Koskas – the company has been deliberating whether its electric vehicles need their own visual identity in the same way BMW is carving out with its 'i' cars.
"There is no right answer to this," said van den Acker. "But with the success of the ZOE, which looks like a normal car, in our case I don't think we need a specific, unique formula for electric."
What do you think the future holds for the car? Give us your view in the comments...