Renault Alpine to cost £40k
Renault boss confirms that the production version of the Renault Alpine A110-50 concept will cost £40,000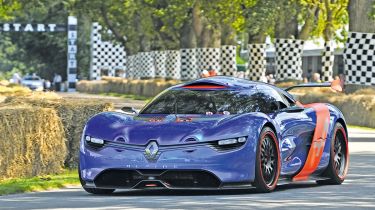 A production version of the sensational Renault Alpine A110-50 concept – which starred at the Goodwood Festival of Speed – will cost £40,000 and could arrive by 2015.
That's according to Renault's chief operating officer, Carlos Tavares. "I'm determined to relaunch the Alpine brand," he told us. "The first car will be a 21st century interpretation of the A110 Berlinette – it will cost around 50,000 euros. That's the direction we're heading in. After that we can do anything we like."
For the sports coupe to make financial sense, Renault needs to spread costs by teaming up with another maker. "A deal exists and it's progressing," Tavares added. "We'll make a decision on the car by the end of 2012 and it'll take three to five years from then."
Tavares refused to reveal who the partner is, but all the signs point to Mercedes. Renault and alliance partner Nissan have an ongoing tie-up with Mercedes and they're already working together on the next Twingo. The only question mark is where the mid-engined platform will come from. This suggests the imminent SLC AMG coupe, which would slot below the SLS AMG in the range, could use a mid-engined layout.
Rumours have been circulating that Lotus could be in the picture, too – it's already providing Infiniti with the Evora chassis and hybrid technology for the Emerg-E. But it's doubtful Lotus could offer the economies of scale Renault needs to make the Alpine project work.