Renault unveils NEXT TWO autonomous prototype
Renault has debuted the NEXT TWO autonomous prototype, promising production versions by 2020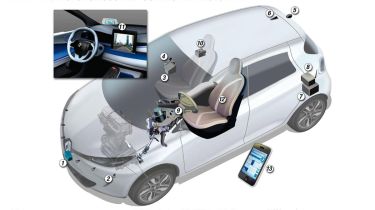 Renault has revealed an early development prototype of its autonomous vehicle technology, dubbed NEXT TWO. The French manufacturer hopes to apply the technology to its product range by 2020, with the system designed to take complete control of the vehicle.
• Driverless cars: all you need to know
The system features several new computer systems that control the car in queuing traffic and at up to 18mph on main roads. NEXT TWO is currently being trialed on Renault's all-electric ZOE EV, and is expected to become a mainstream option on the majority of Renault models by the time it becomes fully integrated with global road infrastructure in 2020.
Renault's CEO Carlos Ghosn explains: "We believe NEXT TWO will reach the marketplace by around 2020. We also wanted to combine the worlds of delegated driving and connectivity."
Although the NEXT TWO system won't be production-ready for another six years, the development of supporting products is well underway. Key to the proposed user experience is a range of smartphone applications, available on both iOS and Android platforms.
The first is the Automated Valet Parking app, which enables the driver to pre-program a set of parking instructions for the car. The driver will then be able to programme another route via the app, and the system will take the car the selected destination and wait for the driver to return. Another feature of the technology is that it is able to remember and recognise driver preferences, including their preferred seating position, interior temperature settings and radio station.
The NEXT TWO system also provides connectivity to all current networks including 3G, 4G, Wi-Fi and Bluetooth. All of the tech is available via the company's new multimedia display with multi-modal interaction (hand movements). A head-up display (HID) system is also included as standard, and turns blue from transparent when Automatic mode is active and awaiting confirmation.
• Self-driving Mercedes by 2020
• BMW autonomous prototypes