Renault reveals Renaultsport R.S. 01 racer in official pics
The Renaultsport R.S. 01 racing car has been revealed at the 2014 Moscow Motor Show
Renault has revealed a new 493bhp racing car at the Moscow Motor Show called the Renaultsport R.S. 01. The new model is built around a carbon monocoque, weighs less than 1,100kg and can hit more than 186mph.
The R.S. 01 will take part in the Renaultsport Trophy from 2015, as part of the World Series by Renault. Its billed as 'a springboard for the professional GT and Endurance championships.'
While not based on any of Renault's existing production cars there's a definite likeness to the Renault DeZir all-electric concept car, first revealed at the 2010 Paris Motor Show.  In fact, CEO of Renault Sport Technologies Patrice Ratti describes the R.S. 01 as "a marriage between the beauty of Renault DeZir and the performance of Formula Renault 3.5."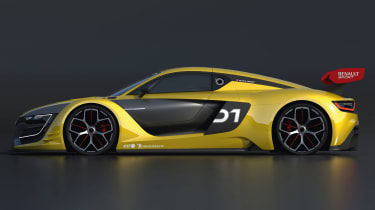 That likeness is no coincidence, either, with both cars being designed by Renault's Vice President of Design, Laurens van den Acker. But the low-slung design doesn't just look good; it also plays a part in directing air around the car. It flows through the centre of the grille before being channeled towards two water coolers and released out of two vents in the hood, creating downforce at the front end.
At the rear, that huge wing clearly plays its part in boosting downforce, but so does the rear diffuser nestled at the bottom of the car. Sitting just above it are stylish twin exhausts and a flowing LED light design that stretches across the back of the R.S. 01.
As for what sits underneath the body, it's a carbon fibre tub designed by Dallara, featuring a steel roll cage and a 150-litre fuel tank. The suspension is a double wishbone set-up, featuring pushrods and Ohlins dampers, while the brakes are 380mm carbon discs.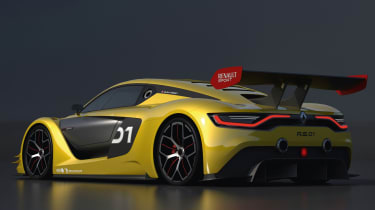 And power comes from a 3.8-litre V6 twin-turbo engine derived from the one used in the Nissan GT-R. With 493bhp, Renault says the R.S. 01 sits somewhere between a GT3 car and a DTM car in terms of performance.
The Renaultsport Trophy championship itself is a Pro-Am event, offering prize money for the best drivers and teams in each round. Meanwhile, the season champion of the Pro category wins the chance to get a rookie test with the official Nismo team at the Super GT in Japan. In the Am category, the champion has the chance to drive in the 2016 Le Mans 24 Hours in an LMP2 prototype.
Would you like to see a Renault road car based on the Renaultsport R.S. 01? Let us know in the comments section below...