First Renault Initiale Paris cars not UK bound
Renault Clio and Espace Initiale Paris models won't go on sale in Britain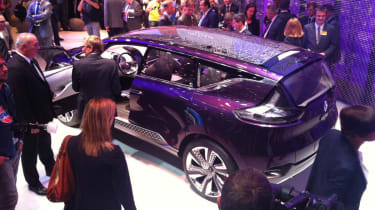 The new, high-end Renault Initiale Paris cars are set to get off to a false start in Britain.
The first two models to get the Initiale Paris treatment will be the Clio and the next Espace, which was shown at the Frankfurt Motor Show in concept form.
But neither model will be sold in the UK.
The Clio Initiale Paris will go on sale in the first half of next year, and feature a number of improvements and upgrades over the current model.
Philippe Klein, executive vice president of Renault, explained what the company hopes to deliver with the Initiale Paris models, which will only be available on selected cars in the company's range.
"What we hope to bring to the market is something different to some of our competitors in this segment, where they are much more on the technological side and in some cases [giving] technology for the sake of technology," he said.
Instead, Renault is pushing a concept it has labelled "The Art of Travel," which aims to deliver additional comfort, better refinement and superior audio systems. The Bose audio system featured on the Frankfurt concept, for example, is set to appear in the production Initiale Paris cars, and seats and materials will be upgraded too.
The models will also be re-engineered to deliver maximum comfort.
• Renault Espace finally revealed
Prices for the cars will carry a "reasonable" premium, but Klein said: "We will not chase big pricing." The cars will be sold through existing dealers, although Renault is still working on finalising the exact details of the buying experience.
UK boss Ken Ramirez added: "The Clio Initiale Paris is a B-segment hatch that offers the comfort that previously you'd have to have bought a larger vehicle to get."
But the Clio Initiale Paris will not be built in right-hand drive initially, and Ramirez explained why he'd decided – in tandem with Renault's French bosses – not to bring it to Britain.
"There isn't a need for it immediately," he said. "We are still building the Renault brand [after axing a number of models in 2011]. It's too soon for us. The Clio is fantastic value in its own right, and this would dilute the message. There is a lot that has to happen in the retail experience, too. Eventually we will consider it, though."
The new Espace will not be built in right-hand drive at all, so will not be sold in the UK in any form.