Renault Twingo 2014 video review
The new Renault Twingo has a rear-engine, rear-wheel drive set-up - like a Porsche 911. What's it like?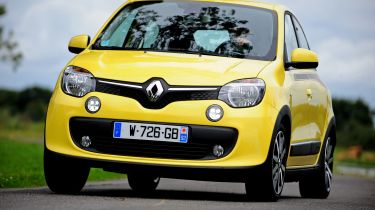 The Renault Twingo is an affordable city car that's designed to be small on the outside, but large on the inside, as well as being highly manoeuvrable in town and stylish enough to stand out from the crowd. It comes in various colour and fashion packs, such as Fashion, Retro Racer and Party.
The Twingo has a very well laid out interior. You can mix and match the colour schemes and also get it with the firm's latest R-Link touchscreen system. This includes satellite navigation and various applications that you can download from the internet.
The main talking point about the new Twingo, though, is that its engine is located at the back underneath the boot floor. As a result, the load capacity of 188 litres is smaller than its rivals. Still, the boot is a very usable shape.
What's even better is that you can fold the front passenger seat down, too, making the little Twingo surprisingly good for carrying flat pack furniture. Even though this car is actually 10cm shorter than the old Twingo, inside it's actually 22cm longer here in the cabin. As a result you have class-leading levels of kneeroom.
Also, there's plenty of headroom in the rear for adults. There are a few problems, though. For instance, the design of the front seats restricts visibility for those in the back and the rear windows pop out rather than wind down.
The new Renault Twingo starts from £9,495 for the entry level 70bhp model. The range-topper costs £11,695 and has a 900cc three-cylinder turbo petrol engine. There's a little bit of lag when you're just picking up from a standstill - it's not quite as nippy as a Ford EcoBoost engine, but generally it's quite quiet, unless you really rev it.
The Twingo will go from 0-60 in 10.8 seconds and it has a top speed of over 100mph. Renault claim it will do 66mpg and if you have it with stop-start, which the range topper does have, then it has CO2 emissions of less than 100g/km so it will cost you nothing to tax.
The new Twingo is very manoeuvrable, nippy around town, easy to park and the visibility is great because you sit up high. The car isn't quite as much fun as expected, though. Perhaps we'll have to wait for the Renaultsport version for that missing fun factor.