Rolls-Royce Spirit of Ecstasy mascot gets aerodynamic redesign
Brand's next generation of cars including Pure-electric Spectre coupe will get updated Spirit of Ecstasy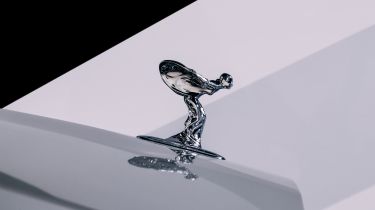 Rolls-Royce has tweaked the design of its iconic Spirit of Ecstasy bonnet mascot to suit its upcoming range of electric cars. The updated figurine will make its first appearance on a vehicle next year, perched atop the bonnet of the pure-electric Spectre.
Rolls-Royce says this revision has brought the design of its bonnet mascot closer to the concept dreamt up by the sculptor Charles Sykes. He was famous for designing the original Spirit of Ecstasy figure, which was first trademarked by the brand in February 1911.
The revised Spirit of Ecstasy mascot is slightly shorter than the old one, standing 82.73mm tall, rather than 100.1mm. The previous version also had a more upright stance, but this new figure leans forward into the wind, which Rolls-Royce says is better for aerodynamics.
The brand used bang-up-to-date computer modelling to optimise the airflow over the figurine, but the methods Rolls-Royce will use to produce the mascots are the same as they were 111 years ago. Each figure will be cast using wax moulds and the finer details and polishing will be done by hand, meaning each will be slightly different.
Not only will the Spectre be Rolls-Royce's first ever electric car, it'll also be its most aerodynamically efficient. The company says the coupe will have a drag coefficient of 0.26Cd, which is on par with the Audi e-tron Sportback – so, it's important that traditional features like the Spirit of Ecstasy mascot don't have a negative effect on the car's range.
Rolls-Royce's Director of Design, Anders Warming, said: "111 years ago today, the Spirit of Ecstasy became an official part of Rolls-Royce. Yet, she has come to represent a spiritual direction for our brand.
"Her form perfectly captures the marque – she leans forward, expressing our relentless pursuit of progress, and her dress gracefully flows in the wind, echoing the serenity of our products in motion. For Spectre and beyond, she becomes lower and more focussed; braced for unprecedented speed and the exciting future her presence will define."
The current Spirit of Ecstasy mascot will continue to be used on the Phantom, Ghost, Wraith, Dawn and Cullinan. For now, the new figure will be reserved for the Spectre.
Now read all the latest news on the facelifted version of the Rolls-Royce Phantom…