Rolls-Royce Ghost (2010-2019) review
The Rolls-Royce Ghost is one of the most luxurious and comfortable cars on the road
The Ghost might sit below the Phantom in the Rolls-Royce range, but by any normal standards it's the very pinnacle of luxury on four wheels.
Now over halfway through its product cycle, the Ghost's styling and interior quality has been subtly improved, along with a silky-smooth new eight-speed automatic gearbox that uses sat-nav information to select the appropriate gear for the road ahead. Power comes from a BMW-sourced 563bhp 6.6-litre V12 which gives the Ghost a startling turn of pace, despite its size and near two and a half tonne bulk.
Based on a stretched version of the BMW 7 Series platform, the Ghost is capable of covering ground extremely quickly and with unrivalled comfort and refinement – it can't disguise its weight in the corners, but it isn't pretending to be a sports car, it's simply the most soothing way to get from A to B.
Engines, performance and drive
It's a shame that a significant proportion of owners will only ever see the rear seats in the Ghost – leaving the driving to their chauffeur – because it's a wonderful thing to drive. You sit high with an excellent view of the road ahead and behind you, and the long bonnet stretching into the distance.
The skinny steering wheel looks and feels delightfully old-fashioned in your hands, and while it doesn't provide much feedback in the corners it does feel nice and direct, letting you change direction with a flick of the wrists. The engine purrs away in the background, and stays virtually inaudible if you use a light right foot. Push the accelerator to the floor and the nose tips towards the sky before you're fired down the road at an alarming rate.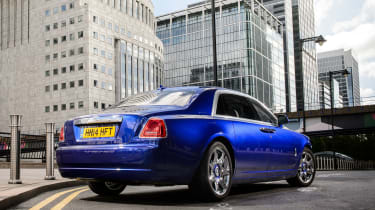 The suspension is beautifully supple and flows along with the road surface as you waft along serenely. For those that do want to up the ante there is a Dynamic Driving Package that stiffens the suspension and quickens the steering, but we wouldn't recommend it – it simply detracts from what the Ghost does best, cosseting its passengers, not slingshotting them around corners.
MPG, CO2 and Running Costs
Buying and owning a Rolls-Royce should only really be tackled by the super-rich. The good news is that residual values are excellent, but when it comes to replacement parts and consumables such as tyres and brakes, expect to pay handsomely.
Rolls-Royce claims fuel economy and CO2 emissions of 20.2mpg and 327g/km, which puts it in the highest possible tax bracket. In reality it's unlikely you'll match those manufacturer figures, so an average mpg in the mid-teens is likely. However, with a large 82-litre fuel tank the Ghost can theoretically cover 375-miles between fill-ups.
A four-year unlimited mileage warranty, that also covers all the servicing during that period, is included in the cost of the car, which helps to take the sting out of any initial bills. There's also a four-year roadside recovery package thrown in for good measure.
Interior, design and technology
The Ghost can't match the Phantom for sheer road presence, but it's still an imposing car to look at on public roads. If you want something more stylish there's not the two-door Wraith coupe, but for most the Ghost will have plenty of visual impact.
At the front a classic slatted Rolls-Royce grille punches through the air with a retractable Spirit of Ecstasy bonnet mascot above it. For the facelift, the grille has been raised by 30mm, there are new creases down the centre of the bonnet (designed to look like vapour trails pouring off the Sprit of Ecstasy's wings) and the LED headlights are wider and slimmer than before.
The interior is as opulent as ever, with swathes of leather, chrome, brushed aluminium and wood veneers, depending on your personal preference. Extendable thigh supports have now been added to the front seats, while the two individual rear seats are tilted slightly towards each other to help create a more sociable atmosphere. Luxury details include a crystal-topped rotary knob and the deep shag pile carpets that encourage you to kick off your shoes.
Practicality, comfort and boot space
As you'd expect for such an expensive car, Rolls-Royce hasn't skimped on interior or luggage space. The drive and passenger have acres of head and elbow room, while there's space for three adults to stretch out in the back if needs be, although it's more likely to be used for just two passengers with a pull down armrest in the centre.
A long-wheelbase model adds even more rear legroom, but you'll need to be extremely tall to make the most of it. Accessing the rear is easy thanks to rear-hinged rear door that open up to nearly 90 degrees and let you climb in with ease and exit with dignity.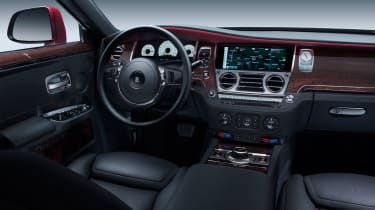 The boot is a substantial 480-litres – just 20-litres less than the BMW 7 Series, but more than enough to store all your luggage out of sight. If you're not driving then it's unlikely to be an issue, but the drawback to the Ghost is its size makes it tricky to manouevre around town and you'll find yourself wincing as you pass other cars on country lanes.
Every Rolls-Royce is built to such a high standard that mechanical and cosmetic problems should be few and far between. With all the mechanicals originating from BMW, and subsequently reengineered for Rolls-Royce, they have the benefit of being manufactured on a large scale, which helps to iron out any defects.
If something does go wrong then Rolls-Royce's customer service is renowned and your issue should be rectified swiftly and painlessly, with a replacement car in the meantime. But beware – diagnosing and fixing faults, plus replacement parts, will be extremely costly.
A huge number of standard safety systems, such as multiple airbags, stability control, cornering brake control, dynamic traction control and anti-lock brakes, make it one of the safest ways to travel, too.
Next Steps
Which Is Best
Cheapest
Name

4dr Auto

Gearbox type

Auto

Price

£261,000
Most Economical
Name

4dr Auto

Gearbox type

Auto

Price

£261,000
Fastest
Name

4dr Auto

Gearbox type

Auto

Price

£261,000