SEAT creates new Xmoba tech company to focus on mobility services
With the launch of Xmoba, SEAT boss De Meo claims the brand is evolving into "a tech company that also makes cars"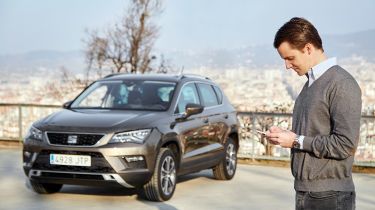 SEAT has announced it has created a new subsidiary company, called Xmoba, to invest in, test and launch high-tech mobility services in Barcelona and beyond.
The announcement was made by the Spanish carmaker's president Luca De Meo in a press conference at this year's Mobile World Congress, held in the capital of the Catalonian region. De Meo claimed that SEAT has evolved into "a tech company that also makes cars".
Xmoba, which is an acronym of 'X mobility' and 'Barcelona', will be concerned with sourcing and recruiting start-up technology companies, running pilot projects and testing new ideas and systems before they can be sold or implemented into SEAT's model range.
All types of automotive technology will be piloted, but the focus will be on promoting shared mobility and connected car services. The company will also prioritise the sale of services, an area of the industry that is gaining relevance for manufacturers.
Xmoba will also manage Respiro, a Madrid-based car sharing service purchased by SEAT earlier this year. Respiro's objective is to roll out its service first across Spain and then to selected European countries.
"SEAT will gradually become a sort of holding company investing in new businesses and startups" De Meo said. "We'll be pioneering innovation to help us back the future of mobility and connected services".
The VW Group carmaker invested €900m in research and development last year, and expects to extend that further this year.
The first company Xmoba has rolled out is justmoove, an app-based payment service that allows you to pay for tolls, parking, taxis and car sharing services through one system.
Should more car brands be focusing on future tech? Let us know your thoughts below...