New SEAT Formentor to join Cupra version in 2020
SEAT will add a coupe-SUV to its fold, and the car has already been revealed with Cupra badges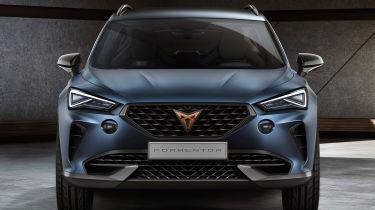 The new Cupra Formentor concept will rapidly transition from prototype into production reality in 2020, but a less sporty version with more economical powertrains and wearing SEAT badges will follow it into showrooms just "several months" after the new Cupra flagship goes on sale.
That's according to SEAT vice-president for sales and marketing Wayne Griffiths, who is also CEO of the Cupra brand.
• Everything from the 2019 Geneva Motor Show
At the Geneva Motor Show, Griffiths said: "The segment that the Formentor is in, the C-SUV segment, is going to be so important that we will not be able to limit it to just a Cupra model. Demand for cars in the C-SUV segment will continue to increase."
The overwhelming majority of buyers in the C-segment SUV category are families looking for space, practicality, fuel economy and value for money, something that the SEAT version of the Formentor will be toned down to address.
"Not only is it high-power it's high end in terms of design, spec, interior, it's right at the top of everything we will do, so I think there is room below that for our customers", said Griffiths of the forthcoming plug-in hybrid performance SUV - the second performance crossover Cupra will launch.
The Cupra Formentor concept uses a plug-in hybrid powertrain linking a battery and electric motor to a 1.4-litre turbocharged four-cylinder petrol engine. However, when the production car launches next year, it'll be offered with the Cupra Ateca's 296bhp 2.0-litre turbocharged petrol engine too.
Click here for all the latest on the new Cupra Formentor concept...