New Subaru WRX STi due by 2020 with hybrid power
Spiritual successor to Subaru's WRC-winning Impreza rally car, the WRX STi will go hybrid by the end of the decade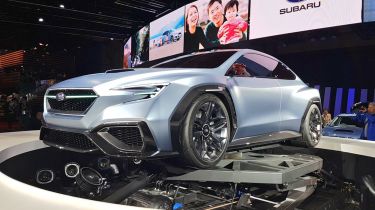 The next-generation Subaru WRX STi will make use of an all-new hybrid powertrain aimed at boosting performance and efficiency. It'll sit on the same Global Platform (SGP) as the new Impreza and should launch by the end of the decade, Auto Express can reveal.
Speaking from the European launch of the latest Impreza, UK marketing director Chris Hawken suggested hybrid tech was inevitable: "[SGP] has been designed to take hybrid and electric," he told us. "That is the way STi is going."
Hawken didn't give any more detail on the forthcoming hybrid WRX STi, but it is likely to take much of its design inspiration from this year's Viziv Performance Concept. That means a similar range of visual tweaks over the standard Impreza, including bigger wheels, an aggressive body kit and an aero-optimised wing. The concept was a coupe, but it's likely that the production model will stick with a more familiar saloon or hatchback shape. 
The existing car produces 296bhp and 407Nm from its 2.5-litre flat-four engine, so it's expected the new version will significantly improve on those figures. Like all electrified powertrains, much of that torque will be available from lower revs, allowing the new version, in theory, to outsprint current car's 5.2-second 0-62mph time. 
• Subaru WRX STi 2018 facelift review
However, given Subaru's commitment to its EyeSight safety tech on every new model, the new WRX STi will be forced to use the Impreza's stepped CVT transmission – so there will be no manual version.
Having only just announced the limited run WRX STi Final Edition, there will be a short hiatus before the all-new hybrid STi arrives. But to plug the gap, the firm is developing a selection of downsized turbo engines that are expected to appear in the Impreza hatch within the next 12 to 18 months.
"We are definitely working on downsized turbo engines," Hawken said. "With Euro 6c coming in next September, cars like the existing STi have to stop. By 2019 and 2020 manufacturers have to show a massive drop in CO2. The future is petrol, hybrid and electric."
Are you excited by the prospect of the hot hybrid Impreza? Let us know in the comments...