Subaru plans mid-engined, AWD, hybrid sports car to thrill drivers
New Subaru hybrid coupe would act as a halo model for the manufacturer's range, if given the green light.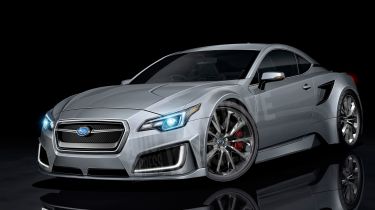 Subaru is working on a radical mid-engined, part-electric sports car that could make its public debut within the next two years, according to well placed sources.
The Japanese manufacturer is said to have been running a modified BRZ sports car containing the most advanced version of Subaru's new Global Platform chassis architecture, a 1.6-litre turbocharged 'boxer' petrol engine driving the rear wheels and a pair of electric motors powering the front wheels.
It is, in effect, the reverse of the powertrain showcased by the Viziv concept at last year's Tokyo show. Engineers will probably use a torque vectoring system to manage torque distribution between the front wheel motors, aiding turn-in in a manner similar to that employed by the latest Honda NSX.
The BRZ is said to have been chosen for the test mule because it is the only rear-drive model in Subaru's current line-up. "Whether the end result will be a two-door sports coupe or a sports crossover/SUV is still in the evaluation stage," said a Subaru insider. "A coupe seems more likely, though." There's no suggestion from sources that a new generation of the BRZ could be the basis for the hybrid sports car, either.
Even if the coupe does appear - most likely as a concept at a motor show - it's far from certain that Subaru would give the green light to production. However, the company has been enjoying burgeoning sales in several key regions, including the United States, and it may decide that the time is right to propose a 'halo' vehicle that's not a WRX-based hot hatchback or saloon.
Do you think a mid-engined Subaru coupe would sell? Let us know in the comments section below…