Suzuki SX4 S-Cross automatic diesel due later this year
You'll be able to get an automatic gearbox in diesel-powered SX4 S-Cross models from summer 2015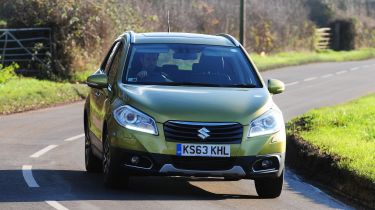 The Suzuki SX4 S-Cross will receive a selection of light updates later this year, including a new automatic gearbox option, cleaner engines and a tweaked infotainment system.
Ed Norman, product manager at Suzuki Cars UK, confirmed this week that the company would soon offer an automatic gearbox on its diesel S-Cross SUV.
• Long-term test review: Suzuki SX4 S-Cross
Although he wouldn't speculate on exactly what setup it would use, it's likely to adopt a new automated manual system rather than a conventional torque converter.
If the AGS 'box in the new Celerio city car is anything to go by, we can expect little to no fuel economy penalties. Unlike fuel-sapping autos of the past, this new system claims more than 50mpg in the Celerio regardless of which gearbox you choose.
Norman also confirmed both manual and automatic S-Cross diesels would be Euro6 compliant from the summer, without the use of AdBlue technology. Companies such as Volkswagen and Mercedes have started using AdBlue exhaust fluid in their most frugal models to reduce harmful nitrogen emissions – but Suzuki insists this won't be necessary.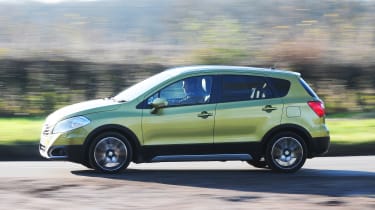 "For the first time for Suzuki we'll have a diesel automatic version," he said. "The diesel engine that goes into Vitara is a Euro6 version. At the moment in S-Cross it's a Euro5, but the S-Cross engine will be updated to Euro6 during the second half of the year."
Elsewhere, the refreshed Suzuki S-Cross will also employ a more modern MirrorLink infotainment system. This is the same setup seen in the new Vitara – due on sale in April – and allows you to stream the contents of your mobile phone onto the dashboard's central touchscreen.
We pushed Norman on whether we'd see this elsewhere in the Suzuki range, and he confirmed that eventually buyers would get the option in cars like the Swift and brand-new Celerio - but not in the near future.
The updated SX4 S-Cross range will go on sale in the July, with prices expected to mirror the existing car. The current cheapest diesel costs £16,999, but an automatic version is likely to command a premium of at least £1,000 over that.