Tesla Model S and Tesla Model X get improved range
Revisions to Tesla Model S and Model X brings extra range, faster charging times and tweaked ride comfort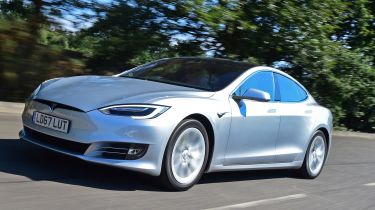 The Tesla Model S and Tesla Model X have been revised, with the changes focusing on ride comfort, charging times and overall range.
The headline figure is an official range of 370 miles for the Model S Long Range when calculated on the EPA efficiency ratings used in the United States - roughly 35 miles more than before. The Model X Long Range sees a similar increase to its previous best, now standing at 325 miles.
The improvements come through a variety of efficiency tweaks, and without any change to the existing 100kWh battery. Changes to the motor include improved lubrication and cooling, plus new bearings and gear designs, resulting in a driveline efficiency that tops 93 per cent.
Further gains come from new tyres, revised wheel bearings and changes to the air suspension which drops the ride height to reduce drag when cruising. Tesla says that many of these changes contribute to faster 0-60mph times in both Standard and Long Range models.
In addition to the air suspension tweaks, adaptive damping now also features. The new system adjusts the rate of response based on driving habits and road surface which, according to Tesla, should improve both comfort and handling.
Charging times are set to improve, too. Both the Model S and X can now accept 200kW rapid charging from the firm's latest 'V3' Superchargers - 50 per cent faster than before - while old 'V2' stations can top up the cells at 145kW.
The revised Model S and X ranges are available to order now, while existing customers benefit from a special offer: those wishing to buy a new S or X get the rapid acceleration Ludicrous Mode upgrade - usually priced at $20,000 - free of charge.
Now read our review of the Tesla Model S. Let us know your thoughts in the comments section below…