Tesla unveils its 250kW V3 Supercharging system
Tesla has released its latest charging system, capable of delivering 75 miles of range in 5 minutes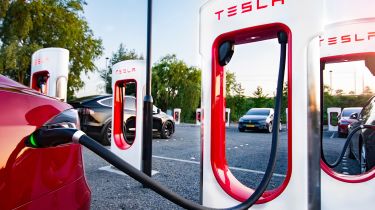 Tesla has revealed its V3 Supercharging system, which is capable of delivering 250kW of power to each model it charges. The firm anticipates its new system will enable Tesla vehicles to charge faster than any other EV on the market, providing a typical charging time of around 15 minutes.
V3 Superchargers can deliver a claimed 75 miles of range in 5 minutes, and supply a maximum charge rate of 1,000 miles per hour. Combined with the firm's new 'On-Route Battery Warm-up' software update, Tesla anticipates 50 per cent quicker charge rates than today's system.
• We drive Tesla's Supercharger superhighway
Tesla's V3 Supercharger is built on a 1MW power cabinet, which supplies each car with 250kW of power, regardless of the number of vehicles using the charging system. Previously, the firm's Superchargers split power between the vehicles plugged into the cabinet, which Tesla says slowed charge times.
The firm's new 'On-Route Battery Warm-up' software is currently being rolled out across the entire Tesla line-up. The system automatically heats the vehicle's cells to the optimum temperature for charging, prior to the car's arrival at a Supercharger. In addition, Tesla will bump up the output of its existing charging network from 120kW to 145kW. It anticipates these revisions will cut charge rates for its current V2 Superchargers by 25 per cent.
Currently, the firm claims its charging network covers 99 per cent of the US population, with similar figures expect for Europe by the end of 2019. Thousands of new Superchargers are expected to launch by the end of the year, allowing the firm to serve more than twice as many vehicles per day.
Tesla's latest charging infrastructure is currently being trialled in the San Francisco Bay Area, being gradually made accessible to Tesla owners over the coming months. Tesla plans for its V3 Supercharging system to be rolled out across Europe and Asia by the end of 2019.
What are your thoughts on Tesla's latest Supercharging network? Let us know in the comments section below…