Tesla Gigafactory Europe to be built in Germany, not UK, as Elon Musk blames Brexit uncertainty
Brand's European factory will be built near Berlin and produce the Model Y SUV, with Tesla R&D centre in Germany, too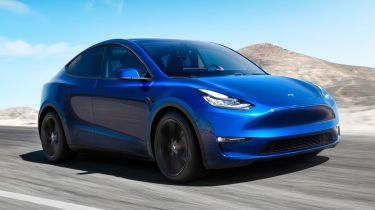 Tesla boss and serial entrepreneur Elon Musk has revealed that the firm's new European Gigafactory production facility will be built in Germany on the outskirts of Berlin. 
Speaking at Auto Express's sister title Auto Bild's Golden Steering Wheel Awards, Musk also revealed that a European research and development base was also planned for Germany, in addition to the new manufacturing plant. Later on his Twitter account, Musk confirmed that the new plant would build "batteries, powertrains & vehicles, starting with Model Y". It's understood that the Model 3, that runs on the same platform as the Model Y will follow. 
Speaking exclusively to Auto Express after making the Gigafactory announcement, Musk identified Brexit uncertainty as the reason why the UK wasn't considered for the new site: "Brexit [uncertainty] made it too risky to put a Gigafactory in the UK," Musk said.
Brexit might have something to do with Musk's change of heart over the R&D centre, too. Back in 2014, he told Auto Express that he planned to build an R&D base in the UK. Those plans have since been shelved.
Musk used his appearance at The Golden Steering Wheel Awards, where he was collecting an Award for the Tesla Model 3 – the current Auto Express Car of the Year – to make his announcements. "We've decided to put the Tesla Gigafactory Europe in the Berlin area," he said. "I come to Berlin a lot – Berlin rocks!"
"Some of the best cars in the world are made in Germany, everyone knows that German engineering is outstanding," said Musk. "That's part of the reason why we're locating our Gigafactory Europe in Germany.
"We are also going to create an engineering and design centre in Berlin."
The Gigafactory Europe will be Tesla's fourth battery plant. The first is in Reno Nevada, with a second gigafactory due in Buffalo, New York. The third is nearing completion near Shanghai in China. The European plant is set to be sited near Berlin's upcoming new airport on the outskirts of the city.
Responding to the news that the Tesla Gigafactory will be built in Germany, German Economy Minister, Peter Altmaier, said: "We see it as recognition of Germany as a location for making cars. We think we now have the chance, in the coming years, to become an important international center in this future-oriented sector". 
According to the DPA press service, construction of the factory near Berlin is due to start in 2021 and should bring a significant boost in terms of employment to the region. "They will have to submit documents at record speed. Production should start in 2021," he said. In the first stage, the factory should create more than 3,000 jobs," said another Economics Minister, Joerg Steinbach. 
What do you think of the news? Is Elon Musk right to raise concerns over Brexit? Tell us in the comments below...