New Tesla Model S 70D on the way
Tesla Model S 70D is a new entry-level four-wheel drive model costing from £54,500 with a range of 275 miles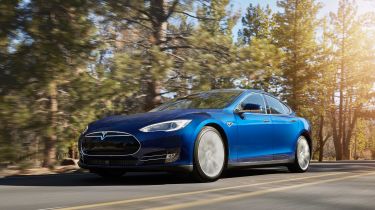 Tesla is working hard on making its range of pure-electric cars more accessible to more people, and the new Model S 70D is a step in the right direction. It joins the P 85D in Tesla's growing four-wheel drive line-up, but uses a smaller battery and less powerful motors, which reduces the performance, but also the price. It also replaces the rear-wheel drive S 60 model at the bottom of the Model S range.
Whereas the P 85D produces a gobsmacking total of 682bhp from its two electric motors – one on each axle – the S 70D makes do with just 507bhp. That reduces the 0-62mph time from 3.2 seconds in the P 85D to 5.2 seconds in the S 70D, and the top speed from 155mph to 140mph. The P 85D's claimed 300-mile range is also reduced to 275 miles thanks to a smaller 70kWh battery pack.
The good news is that after the Government's £5,000 electric car grant is deducted, the S 70D starts at £54,500 – a full £24,580 less than the P 85D. That's also £9,413 less than the entry-level Porsche Panamera, despite covering 0-62mph 1.1 seconds faster than the Porsche.
In addition to its dual motors, the S 70D come with Tesla's Autopilot software as standard, which uses a series of cameras an sensors to steer accelerate and brake the car on motorways without the driver touching the wheel, as well as reading and automatically obeying road signs. Other standard kit includes sat-nav, free access to Tesla's growing Supercharger network, parking sensors and auto braking.
Three new colours – Ocean Blue (pictured), Obsidian Black and Warm Silver – are now available across the whole Model S range. The order books for the S 70D are open now.
Now read our full Tesla Model S in-depth review.