Tesla Model S to get wireless charging from April
Aftermarket specialists can now add wireless charging functionality to your Tesla Model S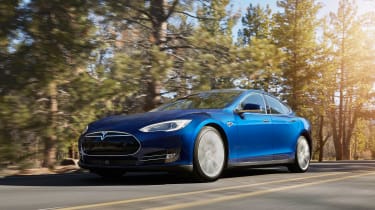 Wireless charging specialists Plugless have announced plans to introduce a system that can top up your Tesla EV without the need for lengthy and cumbersome cables.
Owners will be able to charge their Tesla Model S by simply parking on top of the inductive charging pad. Parent company Evatran is taking pre-orders in the US now for first installations in April, though there is no word on when the technology will reach the UK.
In the US, however, a similar system for a Nissan Leaf costs around £1,000. As the Tesla has bigger batteries, you would expect the relevant Plugless pad to command a slight price premium – though installation is included in the price.
• New Tesla Model 3: everything you need to know 
For now, the setup is only available for rear-wheel drive Model S cars. The Dual Motor all-wheel drive models aren't currently compatible, though Evatran says it is working to make Plugless available on all Tesla models in the near future. This will include the Model X and forthcoming Model 3 in due course.
The Plugless system is totally weatherproof, so can be installed both in garages and on driveways. It's not as fast as Tesla's innovative Supercharger network, though, with the company claiming only 20 miles of added range for every hour the car is left charging. That means a Model S with the 70 kWh battery would take 13 hours to realise its 260-mile maximum.
We'll have more information on the Evatan's wireless charging system – including any plans for UK release – in the coming months.
What do you think of wireless charging? Would it make you more inclined to buy an electric car? Let us know in the comments below…