Tesla Model X gets over-the-air recall update
All right-hand-drive Tesla Model X cars will get wireless update to fix potential airbag fault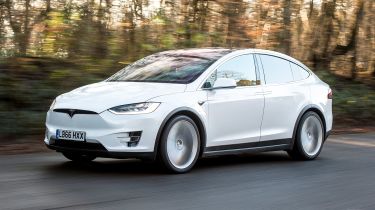 Tesla has announced plans to distribute a wireless over-the-air update for all right-hand-drive Model X SUVs in order to fix a potential airbag fault that was discovered during a routine internal test this week.
In an email sent yesterday, Tesla informed owners that a software update would be deployed this weekend to remedy an anomaly with the passenger airbag in right-hand-drive Model X cars.
A Tesla spokesperson told Auto Express: "We are sending the fix in an over-the-air update to all affected cars with no need to bring a vehicle into a service centre. This means owners can download it on their driveway or in their garage, for example.
"Tesla vehicles regularly receive over-the-air software updates that add new features and functionality. This also means Tesla has the ability to fix certain issues over-the-air too."
The note clarified that the issue only affects RHD cars (around 4,000 in total), which includes those sold in the UK. Customers are advised to refrain from using the front passenger seat until the update is installed.
Our source wasn't able to verify exactly what the problem was, but the email to owners insisted no customer cars had shown the issue in day-to-day use. The problem was identified during testing, and engineers have subsequently been able to isolate the anomaly in the software.
The changes will affect cars bought in Japan, Australia, Macau and Hong Kong, as well as the UK and Ireland. Owners simply need to accept the over-the-air update when it installs this weekend.
What do you think of over-the-air updates? Let us know in the comments below...