Driving in Europe after Brexit: what are the new rules?
Brexit will impact UK motorists driving in EU countries in a number of ways; our guide sets out the changes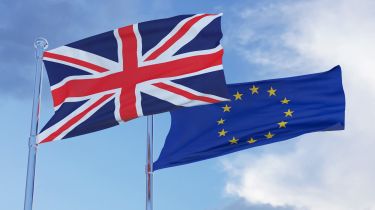 The Brexit transition period came to an end at 11pm on 31 December 2020, with a deal between the UK and the EU having been agreed at the last minute.
Since the UK voted for Brexit back in 2016, there was much speculation on what leaving the EU would mean for British motorists driving on the continent. For the first time since then, we now know for certain what the rules are around driving licences, car insurance, driving permits and a host of other factors.
It should also be noted this guide does not deal with any travel restrictions currently in place due to the ongoing Covid-19 pandemic. If you are unsure of the rules where you live, please consult the GOV.UK website.
Here's everything you need to know about driving in the EU post-Brexit...
International Driving Permits
British drivers do not need an International Driving Permit (IDP) to drive in the EU, Switzerland, Norway, Iceland or Liechtenstein if they have a card driving licence that was issued in the UK. You may need one to drive in the EU or Norway, however, if you either have a paper driving licence or your licence was issued in Gibraltar, Guernsey, Jersey or the Isle of Man.
• International driving permit: do you need one?
If you are unsure whether you need an IDP to drive in the country you're visiting, you should check with that country's embassy. The GOV.UK website features a list of countries and which type of IDP is needed to drive in each of them.
Insurance and green cards
Although British drivers don't need an IDP to drive in the EU, you will need to be certain you're insured if you're taking your own car to the continent rather than hiring one.
Your UK car insurance will give you a minimum of third party protection in EU countries. You'll need to check with your insurer to find out if you have comprehensive cover or are protected against fire and theft.
You will also need to obtain a motor insurance green card from your insurer if you want to drive your UK-registered car in the EU (including the Republic of Ireland), Andorra, Iceland, Liechtenstein, Norway, Serbia or Switzerland. This is a document provided by your insurer to prove that you have adequate insurance cover for driving abroad.
Fortunately, it's not difficult to apply for a green card and it shouldn't cost you anything – all you need to do is phone up your insurer and ask for one. When you do this, make sure you say where you're going so you get the correct documentation.
It's also important to remember that different countries have different requirements, so if your trip involves driving across any borders, you may need multiple documents. A 'green card-free circulation zone' is now in place, though, so this should minimise the need for multiple cards.
It used to be the case that green cards had to be printed on green paper, but this is no longer so. A green card must have a minimum of 15 days' cover left on it when you enter an EU country, but drivers can get around this in exceptional circumstances, such as their insurance policy having less than 15 days' cover on it.
Road traffic accidents
If you're planning to take your car to an EU country, you're advised to check with your insurer before you leave to make sure that, if you're involved in an accident with a European motorist and want to make a claim against them, your insurer will contact their insurer on your behalf and deal with it for you.
Under previous rules, if your insurer was not obligated to provide this service, you would be able to get the Motor Insurers' Bureau (MIB) to do so instead. Now, though, this is no longer be the case, and you will be forced to deal with a foreign insurance company, most likely in the language spoken in that country.
The MIB keeps a fund that UK motorists have been able to draw compensation from in the event of an accident with an uninsured driver in the UK or another EU country. Now Brexit is complete, this form of compensation is restricted to accidents that happen in the UK only.
Other countries operate similar funds, however, and the MIB has secured agreements with 29 of the 30 EEA countries that British visitors will be able to access these funds in the event of an accident with an uninsured driver. The only country an agreement has not yet been reached with is Romania, with the MIB citing "technical reasons" for the delay.
Speeding fines
Brexit also means the Cross-Border Enforcement directive no longer applies to the UK. As such, if a UK-resident motorist is caught by a speed camera in an EU country, they cannot be pursued for a fine. This works both ways, with EU-resident drivers who speed in the UK also able to escape fines.
There are a couple of catches, though. Firstly, British drivers caught by a speed camera in an EU country while behind the wheel of a hire car may find the rental company pursues them for an admin fee. Secondly, there's nothing to stop police in EU countries pulling British drivers over and issuing on-the-spot fines, which have to be paid there and then. It's also thought French authorities are seeking to find a way of continuing the Cross-Border Enforcement directive between France and the UK - such an agreement already exists between France and Switzerland.
Vehicle registration documents
The rules around carrying vehicle registration documents when driving in Europe hasn't changed.
You should continue the current practice of carrying your V5C vehicle log book in your car when driving abroad. In addition, if you are taking a UK-registered hire car to an EU country, you should have a VE103 to prove you are allowed to drive the vehicle abroad.
Number plates and GB stickers
Before Brexit, UK-registered cars driving in EU and EEA countries were required to have a GB sticker affixed to the back, unless the vehicle was fitted with a Euro-plate (a number plate that displays both the EU flag and a GB symbol in its left-hand column).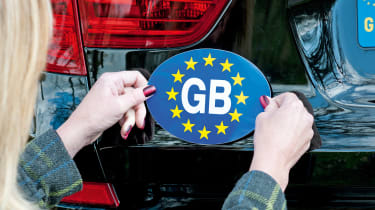 Now the UK has left the EU with a deal, these rules have changed. You now do need a GB sticker if your car has a Euro-plate, as well as if the number plate has no national identifier on it or displays a national flag of England, Scotland or Wales.
You don't need a GB sticker, however, if your car's number plate features the GB logo either on its own or accompanied by the Union Jack.
The only exceptions to these rules are the Republic of Ireland - where you don't need a GB sticker when driving a UK-registered car, regardless of what type of number plate it has - and Spain, Cyprus and Malta - where you do need a GB sticker, again regardless of the type of number plate fitted.
Trailer registration
After Brexit, UK drivers are required to register commercial trailers weighing over 750kg and non-commercial trailers weighing more than 3,500kg before they can be towed in most EU and EEA countries.
Motorists can also voluntarily register non-commercial trailers that weigh more than 750kg, but there is no legal requirement to do this.
Driving licence exchange
The Department for Transport (DfT) says British expats living in EU countries should exchange their UK driving licence for a local EU licence - the deadline for doing this varies by country, as do the rules. Some nations allow expats to simply exchange their licence, while others require medical examinations - such as an eye test - or may require you to take a driving test.
Check the GOV.UK website to see what the rules are for your country.
If you're an EU citizen living in the UK, meanwhile, the process for exchanging your EU licence for a British one hasn't changed as a result of Brexit. As before, you'll need to download the Driver and Vehicle Licensing Agency's (DVLA) D1 form, fill it in and send it off along with your EU licence and any relevant documentation, plus a £43 fee. Your new UK licence will then be sent to you.
If you are planning a road trip to France, Italy or Spain then read our helpful guide here...