How to get your motorcycle licence: theory, module 1 and module 2 tests explained
Our complete guide to the tests you need to take to get any motorcycle licence in the UK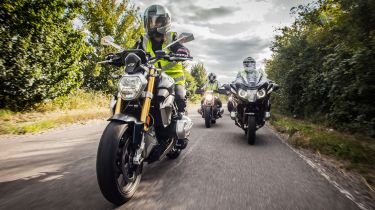 It's unlikely you're one of the few people who actually needs a motorcycle in their life. The list of those that do is mainly delivery drivers who zip through city streets, whether it's a mad dash to get customers' Friday night takeaway to their door before it gets cold, or essential medical deliveries where time is of the essence. While commuting by motorcycle is a fantastic time saver as well, more so than ever, people are looking to learn how to ride a motorcycle just for the fun of it!
And we get it, there's an undeniable allure to hitting the open road on two wheels. Whether that's to find a greater sense of freedom, carve up B-roads on the weekend or conquer continents like Ewan McGregor and Charley Boorman on one of their many adventures across the globe.
In fact, there are well over a million motorcyclists in the UK, including one or two members of the Auto Express team. But how exactly do you get a motorcycle licence? What kind of licence can I get? How many tests will I need to take, and what does each one involve? Read on to find out everything you need to do to get your UK motorcycle licence.
Types of motorcycle licence 
There are four main categories of motorcycle licence in the UK. Exactly which licence you can get depends on how old you are, and all but one of them limits the types of motorcycle you can ride once you've passed. 
AM: This is the most basic motorcycle licence you can get in the UK, but it applies more to mopeds than motorbikes. An AM licence allows you to ride two-wheel and three-wheel vehicles with a top speed of 28mph, plus light quadricycles that weigh less than 350kg and have the same top speed. You must be 16 or older to get an AM licence.
A1: Once you turn 17 you can get an A1 licence. Those that do can buy a 125cc motorcycle that produces no more than 11kW (15bhp) and has a power-to-weight ratio of 0.1 kW per kg at most. It also allows you to ride tricycles that produce up to 20bhp.
A2: If you're 19 or older you can get an A2 licence. This allows you to ride motorcycles that produce up to 35 kW (47bhp), and have a power-to-weight ratio of no more than 0.2 kW per kg. There are lots of A2-compatible motorcycles on the market, while some manufacturers offer restricted versions of more powerful models that are compliant.
A: This is the same as a full UK car licence in that there is no restriction on the power output of the motorcycle that you're allowed to ride. You have to be 24 or older in order to get an A licence via the direct access route, though, or you can get it after you turn 21 if you've held an A2 licence for at least two years and complete the Module 1 and Module 2 practical tests again.
Partnership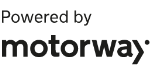 Need to sell your car?
Find your best offer from over 5,000+ dealers. It's that easy.
What the hell are the Module 1 and Module 2 tests, though? Let's get into that, because they are two of the four tests you need to pass before you get your hands on any UK motorcycle licence:
CBT (compulsory basic training)
Motorcycle theory test
Module 1
Module 2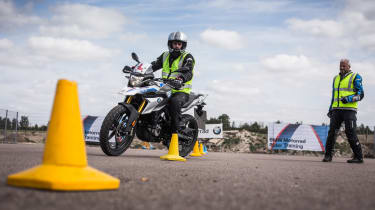 CBT (compulsory basic training)
If you couldn't tell by the name, compulsory basic training (otherwise known as CBT) is the fundamental schooling everyone who wants to ride a motorcycle or scooter must complete before they hit the streets unsupervised. We have a full guide to passing your CBT, but we'll give you the abridged version anyway.
CBT can be broken down into five major sections, starting with a classroom session on the clothing and protected equipment you should be wearing when riding a motorcycle. That includes helmets, boots and gloves, as well as the safety standards and rating that applies to them, so you know what to look for when you buy your own gear (if you haven't already).
Next up is an introduction to the motorcycle itself, where you'll walk around the bike you're going to be riding, learning where the controls are on the bike and how to operate them. This portion of the CBT also teaches you about the daily and weekly checks you need to carry out on a motorcycle to make sure it's roadworthy.
After all that, you'll finally get to ride a motorcycle, although it won't be on the road at this stage. Instead, you'll spend time on a test pad of some kind, learning how to move away, clutch control, stopping, changing gear and stability as you change direction. 
You'll then return to the classroom to prepare to ride on the road for the first time. This involves discussing how you approach roundabouts, junctions and some of the other scenarios you can expect to encounter.
At this point, if the instructor is confident in your abilities, you'll finally get a chance to head out on the highway. To complete your CBT you must spend a minimum of two hours riding on the road, with your instructor guiding you the entire time. This isn't a test, rather a training course where you're assessed throughout.
If you've met the standard required, you'll be handed your CBT certificate, which allows you to legally ride a motorcycle or scooter of up to 125cc on the road, so long as it's fitted with L-plates. You can't go on motorways and can't carry pillion passengers, while a CBT certificate is valid for two years. You can either move on and take the other tests at this time, or you must retake your CBT when the two years is up.
Motorcycle Theory test
If you've taken the car theory test not so long ago, then you'll have some serious deja vu with the motorcycle theory test, because the experience is exactly the same. You sit in a little cubicle with nothing but a computer, are given 50 multiple-choice questions, including some situational questions, then are shown clips to test your hazard perception.
However, before you start thinking you'll breeze through this because you've been driving for decades or have an encyclopaedic knowledge of road signs, the motorcycle theory test does include questions specifically about motorcycles – I know, it's cruel! These can be about maintenance, equipment and rules and guidance regarding pillion passengers, to name but a few of the topics you might be quizzed on. 
That means you're going to have to study, but there are plenty of books available or, if you prefer, mock tests you can take ahead of time. You should also brush up on your hazard perception skills too, especially if you learnt to drive before the modern theory test was introduced in 1996. 
It's worth noting that you can take your theory test before completing your CBT, which you'll have to do if you plan on enrolling in a direct access course like we did. In fact, you'll be required to present your theory test certificate at the start of courses such as these.
Once you've passed your motorcycle theory test, it's also valid for up to two years.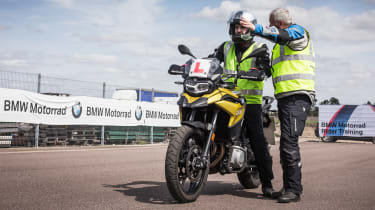 Module 1 test
The penultimate hurdle to obtaining any motorcycle licence is the Module 1 test, where you must demonstrate your ability to control a motorcycle safely in a wide variety of situations. This test doesn't take place on the road, instead you go to a purpose-built facility adorned with plastic cones that you know are completely harmless, yet still manage to strike fear into the hearts of new riders. 
The Module 1 test includes seven individual components:
Manual handling – you'll have ridden into a parking space and you then have to push the bike from that bay into the next
Slalom into figures of eight – pretty self-explanatory
Slow ride – riding as though you're in slow moving city traffic, travelling at around 4mph
U-turn – again, pretty self-explanatory
The next three exercises all begin by riding around a bend, which also gives you an opportunity to show you can handle cornering on a motorcycle. You'll also pass through a speed gate after exiting the bend because you must be travelling at or around 50kph (32mph) when you complete the final two exercises. Your examiner will ask you to redo them if you're going too slowly and you have two chances for both, so don't sweat it if you don't nail your speed the first time round.
Controlled stop – after passing through a set of cones you have to slow gently so you stop with your front wheel within a box
Emergency stop – once your examiner gives you a signal, bring your bike to a stop as quickly as possible, but still in a safe, controlled manner
Avoidance exercise – steering through a set of cones, as though you're avoiding something that's appeared in the road. After you've straightened up, bring the bike to a stop.
Top tip: when you're on the test pad you must behave as if you were on the public road. That means carrying out your mirror checks and lifesavers (a look over each shoulder to check the area that the mirrors don't cover) before pulling away, and checking your mirrors after you've completed your controlled stop, emergency stop and avoidance exercise. Even after all those, when the examiner ushers you off the test pad, you still need to carry out your checks. If you don't, that's deemed a minor fault.
Speaking of which, you cannot make more than five minor faults or any major faults in the Module 1 test, otherwise you fail.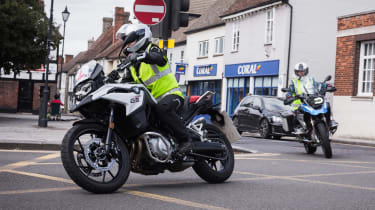 Module 2 test
This might well be the final test of the lot, but if your instructor has trained you well enough, then it should also be easiest. As with the practical test for cars, you'll go to a random car park to meet your examiner, who will either follow behind you on their own motorcycle or in a car. 
The exam begins with you reading a licence plate from at least 20 metres away. Your examiner will then ask you three random 'show me, tell me' questions about motorcycle maintenance, the controls of your bike and any checks you might need to carry, plus one additional question specifically about pillion passengers. 
All being well, you'll then set out on the 30-40 minute riding test, with the examiner providing your directions via an earpiece – just like you'll have had while learning on the road with your instructor. Obviously we don't know what situations you'll face on your test, because it depends on where you take your test, as well as the random actions of other motorists, cyclists and pedestrians. 
What we do know is that you'll be asked to complete a few types of stops during your test: pulling up behind a parked car, a hill start, stopping where and when you think it's safe to do so, and then moving away when it's safe to do so. 
For the Module 2 test, you can make up to 10 minor faults and still pass, but any serious or major faults will result in a fail.
And that's all there is to it – once you've passed all four tests, you've got yourself a motorcycle licence.