Toyota to launch Europe-specific hybrid and electric car platform
Toyota's new 'E3' architecture will cater for different electrified powertrains in one vehicle according to market conditions, claims the firm's European CEO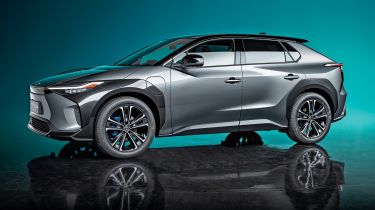 Toyota will increase the powertrain flexibility of its future European models with a single platform able to accommodate hybrid, plug-in hybrid and fully electric propulsion, according to the firm's European CEO, Matt Harrison.
Dubbed the E3 platform, it will reportedly combine various elements of Toyota's global compact platform (TNGA-C) and the e-TNGA platform used in the company's forthcoming electric-only models.
Toyota currently doesn't have the capability to build EV-only models in Europe, and the new E3 architecture - said to stand for emotion, engagement and energy - combines elements from existing platforms manufactured on this continent, which would give the brand the ability to produce pure-electric cars here.
As it stands, the firm's only pure EV - the forthcoming bZ4X crossover - will be built in Japan and imported.
The new platform will, it is claimed, allow Toyota to build a mixture of hybrid and EV-powered models at its plants in Turkey and Derbyshire, UK, in the near-future. Nothing is confirmed, but it is thought that models such as the next-generation C-HR would be prime candidates for the E3 platform, allowing them to feature various electrified powertrains to suit the needs of different customers.
"We are convinced that the journey to carbon neutrality will not be only electric, it will be eclectic - that is to say, it will embrace multiple technologies and fuels which all lead to the same destination," Toyota's European CEO, Matt Harrison, told Automotive News Europe.
By basing the new platform partly on existing structures within the brand, Toyota can minimise costs and timeframes for launching new models, It can also use existing factory lines with less adaptation required - the Turkish and British plants already build TNGA-C based models, such as the Corolla, and have a combined output of more than 450,000 units a year.
The strategy is similar to that of the Stellantis group, which sells a number of models with the choice of petrol, diesel, hybrid or fully electric powertrains. However, no model within the group is available with both EV and hybrid powertrain choices - individual brands must decide which electrified option suits its customers' needs.
Click here for our list of the best electric cars on sale right now...