Toyota and Lexus launch new Amazon parts shop
The Toyota online shop is open 24/7, selling general spares, replacement parts, accessories and heritage components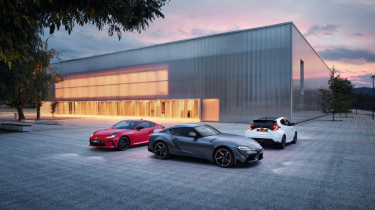 Toyota and Lexus have teamed up with Amazon to launch two new online shops. The retail giant now stocks new parts and accessories for both brands, opening with key items such as headlamp units, wiper blades, touch-up paint and floor mats.
However, Toyota and Lexus will expand their stores over the coming year, with plans to offer thousands of items such as service parts, brake pads, roof bars and a broad range of Gazoo Racing-branded products for the Supra, GR Yaris and GR86.
Toyota has even started stocking parts for some of its older models. For example, buyers can buy genuine headlamp units for the third-generation MR-2, a boot liner for the second-generation RAV4 and floor mats for the previous Lexus GS saloon.
The two brands also say that every product sold on their Amazon stores is protected by the same guarantees as they would if they were bought from an official dealership. As an added benefit, most parts arrive within a week.
Rob Giles, Toyota's Customer Service Director, said: "We are always looking at how we can improve our service to customers, which includes making it easy and convenient for them to obtain the items they want for their vehicle, whenever they need them and wherever they are.
"These new stores give our brands an official presence in one of the UK's most popular online shopping services, while retaining all the quality and performance guarantees our customers expect. The range available is impressive and expanding fast, covering every aspect of vehicle ownership, from wear-and-tear items to accessories that people can confidently fit themselves."
These new Amazon stores join the brands' existing shops on eBay. The eBay shops currently stock a broader range of parts than its Amazon shops, with buyers able to purchase engine, gearbox, braking and suspension components, in addition to accessories and merchandise.
Now read all the latest news on Toyota's upcoming hardcore version of the GR Yaris hot hatchback…