Toyota to offer specialized electric car 'hubs' for bZ4X sales
Dealers will deliver series of specialized EV retail points to sell Toyota's first bespoke EV, the bZ4X SUV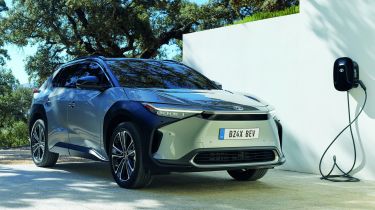 Toyota will sell its new range of pure-electric vehicles, starting with the bZ4X, at a series of in-dealer 'hubs' that can offer specialised advice about the switch to EV motoring.
The Japanese manufacturer has issued final production specifications for its first bespoke electric car, although it is still awaiting final confirmation of its WLTP range (currently expected to be around 280 miles). Toyota says the battery is designed to offer 90 per cent of its capacity after 10 years of use, and it is offering a warranty on the pack of a million kilometres (624,000 miles), provided that the owner takes the car to an official dealership every year for a health check.
Toyota's European product and marketing boss, Andrea Carlucci, told us that the bZ Hubs are likely to be 'store in store' facilities - in effect, a dedicated area of the showroom floor - but admitted that not every dealership would be expected to offer this more specialised service. He also reiterated that Lexus will not follow the same path as Genesis, which is planning to offer a valet service instead of conventional showrooms.
"Our dealerships will remain at the heart of our customer proposition," Carlucci said. "The hubs are about enhancing that, for those who want to harness what digital services can offer. Some people want to visit the dealership five, six or seven times before buying the car; others don't want to do this at all. We need to be able to satisfy both types of client.
"We won't force the Hubs on the networks across Europe, but there will be discussions and we will of course use the local knowledge," he added. "In big cities, where there is probably greater demand for EVs, then it may make sense for all dealers to be bZ hubs. This won't be the same in other areas; we already know this."
Regardless of where the customer orders their bZ4X, the vehicle will be available as part of an all-inclusive leasing solution that brings maintenance, insurance, connected services, a home wallbox and a single card that gives access to multiple public charging networks.
The bZ4X is being launched with a single 71.4kWh battery configuration, and Carlucci says this is designed to keep the customer buying journey as simple as possible. "I think you can see already what we are trying to achieve," he said. "We want to make the customer's decisions as easy as we can. Perhaps our capacity is not the ultimate in the class, but we will deliver a very competitive range."
Click here for our list of the best electric cars on sale right now...