Toyota Aygo/Peugeot 108/Citroen C1 - best first cars for new drivers
The Toyota Aygo, Citroen C1 and Peugeot 108 trio offer funky looks and plenty of tech for a low cost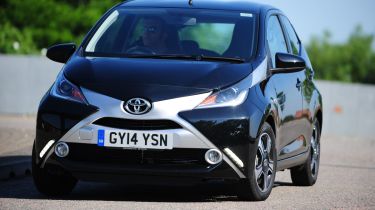 The second-generation Toyota Aygo was jointly developed alongside the Peugeot 108 and Citroen C1 and still looks funky despite having been on sale since 2014.
The big draw compared to rivals like the VW up!, Hyundai i10 and its sister cars is the level of personalisation available on the Aygo. The Aygo is emblazoned with an 'X' running from the A-pillars to the front grille – just one of a number of parts that can be swapped around in a variety of colours.
The original Aygo was a big hit for Toyota, with its compact dimensions, minuscule running costs and cheeky looks earning it strong sales across the UK. So the Japanese brand hasn't messed with a winning formula for the second-generation car.
It's powered by the same three-cylinder 1.0-litre VVT engine and employs the same lightweight build. Parents will be relieved to hear the Aygo's acceleration is leisurely, taking 13.8 seconds to go from 0-62mph and it won't be able to crack 100mph. But Toyota has tried to give the Aygo even greater youth appeal with a funky design, a range of personalisation packages and smartphone-optimised infotainment system. The Aygo is capable of 53.3mpg on the WLTP cycle, dropping to 51.4mpg in the 'x-shift' automatic.
Interior space is marginally improved, and a new x-touch infotainment system brings it bang up to date. Buyers can change the colour of the 'X', wheels and rear bumper, as well as a selection of snap-in interior parts. It's a tactic designed to attract young fashionable customers to the brand, and proves Toyota is trying to put an era of bland designs behind it.
Top 10 best first cars for new drivers 2021