Toyota: expect more "risky designs"
Toyota Europe boss says more "emotional surprises", like the FT-1 concept, are on the way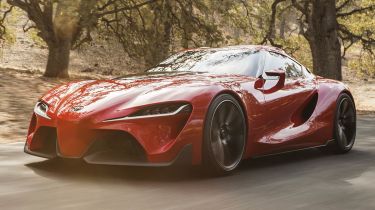 Karl Schlicht, executive vice president of Toyota Europe, has told us to "expect more risky designs" and has promised more "emotional surprises like the FT-1 concept," as Toyota continues to morph its image from a producer of bland, sensible cars to a more aspirational brand.
"Toyota has really changed under Akio Toyoda [Toyota CEO] – he really doesn't care about selling more cars than anyone else, in fact he's paranoid about growing too quickly," Schlicht told us. "He's told everyone in the company not to chase the number one spot, but to do things right, make the best cars and the money will come."
"If Akio wasn't CEO then our products would still be bland, but they're not because he's prepared to make a mistake. If 30 per cent of people don't like a car we produce then that's fine, we're only after between five and ten per cent market share," he added.
The Lexus LFA was a project that Toyoda pushed through tirelessly himself, even though it cost the company money, instead of turning a profit. Since then the GT-86 has arrived, we've seen the FT-1 concept (already branded the new Supra) and a joint sports car project with BMW is in the planning stages.
"The LFA was the hardest project to push through, but he [Toyoda] did it anyway. He wanted to liberate the minds of his engineers. In a way the FT-1 is the next stage in that, a more accessible version of the LFA," Schlicht said.
However, he wouldn't be drawn on confirming that the FT-1 will reach production: "When we made the LF-LC it had a huge response from our dealers. We're doing the same now with the FT-1. I'm sure the response will be great, but there's no black and white answer yet."