General Motors warns of Brexit cuts in Europe
A falling pound and levelling vehicle demand is estimated to cost GM $300 million by the end of the year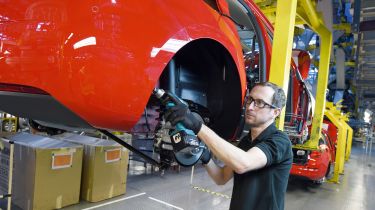 General Motors could scale back its operations in Europe as a result of the Brexit vote and falling currency rates, which has wiped $100 million off the American carmaker's books in recent months.
The Detroit-based carmaker, which owns Vauxhall in the UK, is struggling to make a profit in Europe. The fall in the value of the pound following the UK's decision to leave the European Union and levelling vehicle demand in the US is estimated to cost the company $300 million by the end of the year.
• Nissan to decide Sunderland plant's post-Brexit fate next month
Chuck Stevens, GM's chief financial officer, said: "We are prepared to take whatever action is necessary to put Europe on the path." He added: "The pound sterling has deteriorated further, which creates another headwind for us. Breaking even this year is going to be very challenging."
GM already raised prices in the UK by 2.5 per cent on October 1and is now looking at cutting costs.  The company has already cut working hours at its German plants building the Corsa and Insignia. Stevens said: "We will look across all aspects of the business and take whatever action is necessary to get the business back on track." 
The future of Vauxhall's Ellesmere Port, which currently builds the new Astra, is dependent on EU sales, as 80 per cent of the 120,000 produced annually are exported to other member countries.
However, UK sales have so far failed to dip as expected by some, and Stevens emphasised that it is "too early to say anything specific about capacity reductions" in the UK or mainland Europe. GM is due to announce whether it will build the next generation Astra in the UK or elsewhere in the coming months.
Will Brexit hurt the UK automotive industry? Tell us your thoughts in the comments below...