Volkswagen ID. models to get over-the-air software updates
Volkswagen shifts towards a software-based business model, with improved safety and additional features enabled through updates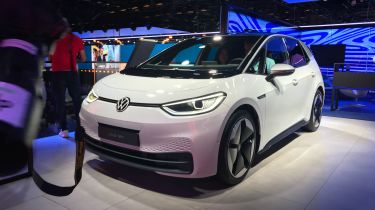 Volkswagen has announced that all of its electric ID. models will receive regular over-the-air software updates into the future, as the brand moves towards a software-based business model. The update scheme brings the potential for new infotainment features, safety improvements and increased range to be added remotely, in a bid to extend the life cycle of ID. cars.
Until now, over-the-air updates have only been available to members of the ID. First Movers Club, a band of early adopters of Volkswagen EVs. The marque is now offering the service to all ID.3, ID.4 and ID.4 GTX owners, with a new update set to arrive every three months or so.
The first update brings ID. Software 2.3, and offers optimized safety assists and additional features. Volkswagen's electric models feature a light strip at the base of the windscreen, called ID. Light - this has now been calibrated to provide feedback for efficient driving, and is used in conjunction with active cruise control. The new software also brings a revised user interface to the central infotainment touchscreen, with clearer graphics and improved ease of use.
The multifunction camera fitted to ID. models has also been updated with improved image processing, allowing the car's emergency brake system to react faster to obstacles and other road users. Where optioned, the Volkswagen's dynamic high beam control system is now more responsive, ensuring that oncoming traffic isn't blinded by the main beam.
The marque's software push is part of its vision to revolutionize the car-buying process. Over-the-air updates are a powerful tool in a car's long-term development, and Volkswagen aims to capitalize on this with a new business model that uses software-enabled optional extras. This would streamline the brand's model line-ups, with customers purchasing a 'base' car and enabling options through over-the-air updates.
Volkswagen sales and marketing board member Klaus Zellmer told Auto Express: "We want to reduce the complexity of our cars. With cars today, you're looking at millions of possibilities to specify them, which drives up cost, so this [new business model] will enable us to build fewer variants."
Check out the latest on the Volkswagen ID.Buzz here...