VW's cheapest electric car could still cost £16,000
High battery costs and slow uptake could mean even the cheapest electric car from VW remains pricey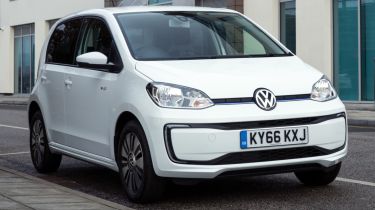 Volkswagen's cheapest electric car, due on the market in four years time, could still cost up to £16,000 - almost £10,000 more than today's budget petrol-powered equivalents, company bosses have revealed.
VW has previously confirmed that the development of an 'entry family' of electric vehicles is under way and should be on the market by 2023.
But VW's head of e-mobility Thomas Ulbrich has claimed that the cost and complexity of the technology will mean prices will remain high. "For city car e-mobility it is very difficult because you have a very costly drivetrain – it is around 30 per cent the cost of the vehicle," Ulbrich told Auto Express. "Customers for this segment today pay €12,000 to €14,000 but in the future they will have to buy an electrified car in the same segment between €18,000 to €20,000 - this is one of the biggest challenges for the future."
In attempt to reduce the cost of EV ownership Ulbrich said that VW was in active discussions with the German government about subsidies. He stated: "We must discuss with the governments about regulations, if there are subsidies, how they are organized? Because these [city car] customers must have the right to own electrified cars."  
• Best electric cars to buy 2019
In an effort to reduce development costs and increase profits, VW will license its all-new MEB electric car architecture to third parties. "Earning money with EVs is not easy, especially because of cost of battery, so the only way out is volume - it's the only way to become feasible with EVs." Asked when VW's ID. electric car programme would become profitable Ulbirch, claimed within the first product cycle "so within six years."
Will the cost of electric cars ever come down to the level of the cheapest petrol models? Give us your view in the comments...