Brexit kills next VW Golf convertible
'Secret' convertible killed off after UK market softens, sources suggest it's the mk8 VW Golf cabriolet that's bitten the dust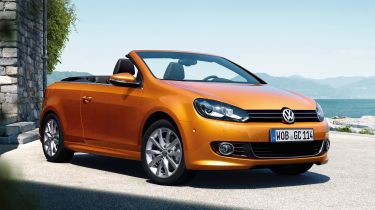 The world has something new to blame on Britain's decision to leave the European Union – a lost Volkswagen convertible. Volkswagen's brand chief has admitted that Brexit and a softening UK market recently forced it to abandon plans for an all-new convertible.
Europe's biggest brand killed off both its unloved Eos and its long-term favourite, the Golf Cabriolet, in 2015. The only convertible Volkswagen today is the Beetle Cabriolet and its sales rate is glacial.
• Frankfurt Motor Show 2017: latest news
"We are concerned about the U.K.," Volkswagen brand CEO, Dr Herbert Diess, admitted.
"We wanted to do a convertible now, but with the relatively weak U.K. market and the uncertainty about what will happen, we had to think against it." "We think 'hmmmm' instead. It's very important for convertibles there."
Although Dr Diess refused to be drawn on what type of convertible it had to abandon, sources suggest he is referring to dumping the Cabriolet from the development program for the next-generation of Europe's most popular car, the Golf Mark 8. It had already been abandoned for the face-lifted Golf Mk 7.
While Brexit has been cited as the cause of a lot of things, including confusion amongst the car industry's supplier base, the cancelling of a global car is a first, and is especially concerning because it wasn't a decision by a UK car maker.
"We are concerned regarding the market and how it will develop after Brexit," he said.
"How are we going to end up with the technology and trading schemes and how it's all going to develop. The market also is a bit sluggish and the pound has lost so much value."
Will Brexit cause other manufacturers to alter their product plans? Let us know what you think in the comments...