Used Volkswagen Polo (2003) review
Superminis always hold their value well. They have a broad customer base that ensures they are popular new or used.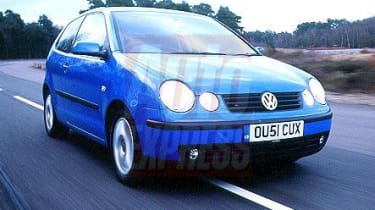 Superminis always hold their value well. They have a broad customer base that ensures they are popular new or used. The VW Polo is perhaps the best of the lot - renowned for its solid build, reliability and upmarket image. The latest-generation model debuted last January, and bears all the hallmarks of previous Polos in a more refined and roomier package. It's well finished, usually generously equipped and has the ride quality of a bigger car. Due to the Polo's strong resale values, most second-hand examples are at main dealers, but some high-milers are found in the general retail sector. Aim for an SE-spec model or higher, as they will be easier to sell on.Checklist * Interior: light cabins are bad news, and while VWs feel well built, they wear if neglected. The insides of the doors and grey plastic footwell trims are first to collect dirt. * Engine: VW units are usually reliable, but the 1.9 diesels become smokey and guzzle oil if neglected. Some 1.4 petrols have coil faults which cause the engine to cut out. * Gearbox: the notchy gearchange is a VW trait, and there's a fair amount of play when the lever is in neutral. Difficulty engaging ratios is cause for concern, though. * Electrics: some owners have reported electrical gremlins, most notably with the ECU, as well as the warning lights for the airbags and oxygen sensors. All should be repaired under warranty. * Bodywork: check closely for scrapes or parking dings. As the latest Polo is still fairly new, spare parts have to be bought to order, and can take a while to arrive.Driving Impressions The Polo is hardly exciting to drive, but it's pleasant enough. The roomy cabin has lots of storage, and boasts quality usually found on more expensive cars. All the engines are adequate. The 65bhp 1.2 is real fun, and the 100bhp 16-valve 1.4 is even better, although the 55bhp 1.2 and 75bhp 1.4 feel a little flat in comparison. The 75bhp and 100bhp TDI diesels are excellent, but the frugal 1.9 SDI lacks punch. The Polo rides well and is stable at speed, and even high-mileage cars are reassuringly solid and squeak-free.Glass's View Although dearer than many other superminis, the Polo finds no shortage of ready buyers. But don't pay too much - oversupply has been a feature of the Polo on the second-hand market of late, and as a result values have come under pressure, so it's well worth haggling. Diesel models aren't as popular as you'd think - high purchase prices mean they are expensive to buy new and the extra cost doesn't add up as most small cars cover relatively low mileages. Jeff Paterson, Senior Editor, Glass's GuideLife With A Polo I bought a Polo 1.4 S as my wife liked the styling. It's a quality car, but I find it frustratingly slow, and the ride and steering feel soft. I don't dislike it, but I can't get very excited about it, either. David Thomas, Eakring, Notts I've done nearly 30,000 miles in my 1.4 TDI, and nothing has gone wrong. My friends and family love it, and I would definitely buy another. Emma Buntingford, Burghley, Lincs
Verdict
The Polo offers levels of refinement that would have been unthinkable in this sector five years ago. Comfortable, quiet and sure-footed, the VW behaves impeccably at all speeds. Performance-wise, the 1.4 is reluctant to pull away, while the gearchange feels slightly vague, with a long throw. Handling is much improved over the old model. Thanks to a wider track and reworked geometry, it now corners impressively. A well made car with good manners, but not inspiring.